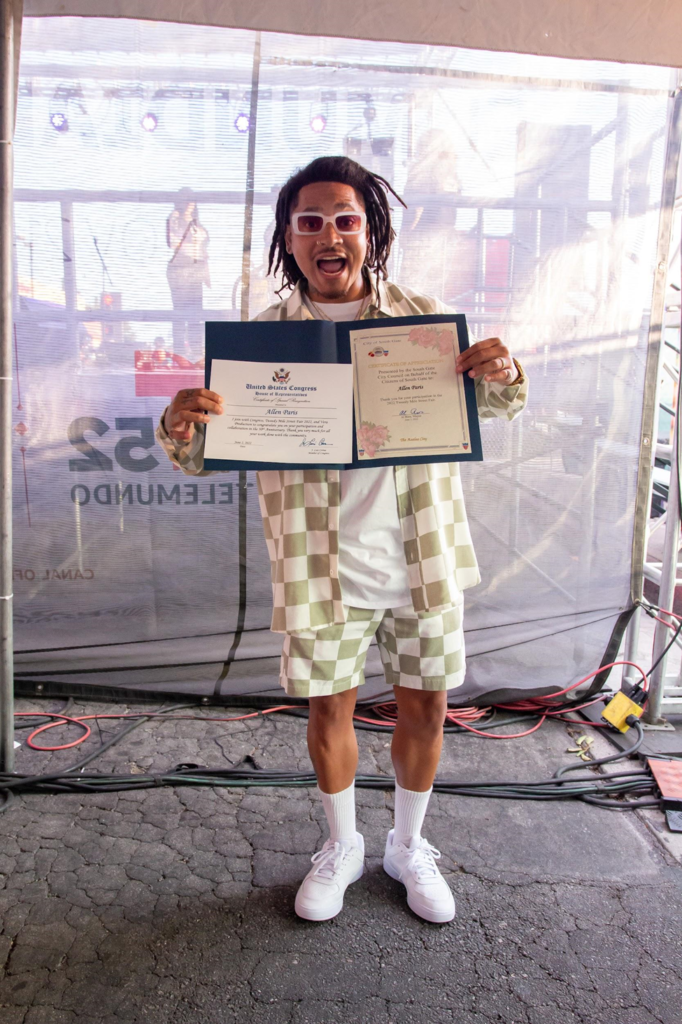 Staff
Earlier this month, pop artist Allen Paris rocked the stage at South Gate's Tweedy Mile Street Fair. The one mile long street fair celebrated its 30th anniversary after a two year hiatus due to the pandemic.
Historic Tweedy Avenue in Downtown South Gate was packed with residents and visitors enjoying the fair's two music stages, carnival rides, food vendors and other attractions.
Paris's excitement to perform his mix of pop, R&B, and alternative rock was obvious as he got ready to take the stage, which was sponsored by Telemundo 52 Los Angeles. After his performance, Paris received commendations from Congressmember Lou Correa and South Gate Mayor Al Rios.
"This is to give back to the community," said Bash Chaudry, President of the Tweedy Mile Association.
Tweedy Mile Street Fair was also sponsored by the South Gate Chamber of Commerce.
Eliza Chaidez coordinated talent for the Telemundo stage and Gloria's Restaurant provided food for the talent.
Downey Latino caught up with Paris, a West Covina native, after the show to talk about transitioning from his former persona J.A.FREe, some of his musical inspirations, and what it feels like to perform. His latest single, Follow Me, is available on Spotify and other streaming platforms.
Downey Latino News: How long have you been performing as Allen Paris?
Allen Paris: About seven years. I was J.A.FREe previously, I still am J.A. Everyone still calls me J.A.
I was signed under J.A., I did a lot of work with J.A.FREe. I feel like as I grew, sometimes you (can) outgrow a name. A lot of people thought, because the J.A. was in there, it was a reggae/urban type thing when the music didn't translate that way.
I felt like interviews I was getting, meetings I was getting, there was always some kind of stigma around the name.
I took a break from music for about three years. And I just did features. I'm a great feature artist. Hooks hooks hooks, all day. For all types of rappers. That kept some money in my pocket and my artistry working, as well as (being able to) think about what I really wanted to do with myself.
As scary as it was to change my name, it was a blessing.
DLN: When did you first start performing?
AP: I started very young. I remember doing talent shows in elementary (school).
Once I got really serious about my music and wanted to share my talent with the world, that was around ninth grade in highschool in a little singing group. I remember doing little shows, singing the national anthem at (Anaheim) Ducks games.
I've been around, around. But I'm still at it. Still chasing the dream.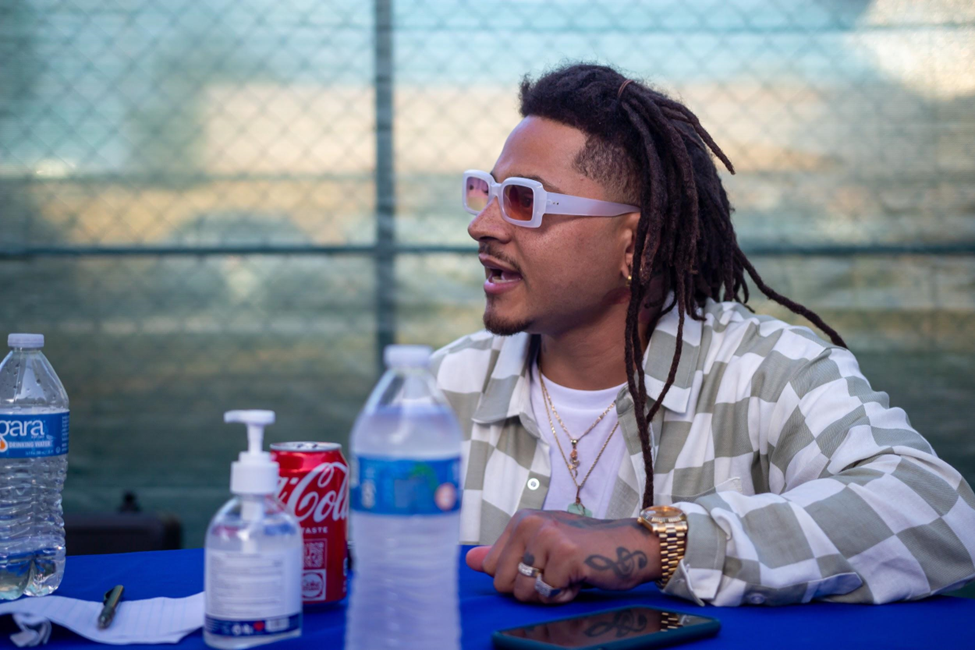 DLN: Who are some of your musical inspirations?
AP: I'm sure you can imagine (Michael Jackson), of course. Not only musically, but how he carried himself and what he was trying to do for the world. That really inspired me.
I think all genres of music inspired me growing up. I don't like to box myself in. I like people (ranging) from Bob Marley, to Marvin Gaye, to Red Hot Chilli Peppers, to Rage Against the Machine. Metallica. Boyz II Men. Kris Kross. A wide spectrum of music.
DLN: How would you describe the genre your music falls into?
AP: That's always been a really tough thing for me.
When I was signed to Warner Brothers in 2008, I was there for about three years, they had a tough time (categorizing my music) as well.
Back then, that was still when you had to shelf records (in) record stores. So they were like, "How do we shelf you? What genre do we put you in?"
Right now, what I'm trying to give the world, (my music) is an urban/retro/pop kind of vibe.
DLN: What label are you on now?
AP: I'm on an indie label called Elite Frequency Group.
It's with my producer and one of his longtime buddies he does business with. We have our own production house with film and music. It's just the three of us and it's easier that way. Very artist-friendly type of situation which is rare.
DLN: What do you write about when you write lyrics?
AP: Whatever the production makes me feel. I tend to write what I feel would fit best for the production and maybe not what everyone else is talking about. I don't really like to be like everybody else.
I like to write about uplifting stuff, make people feel good. Michael Jackson was so good at that. I felt like the music industry was missing that, especially with young African-American artists.
It's a lot of Trap music. I can dig it, I even dabbled in it just to get those juices out but at the end of the day I wanted my music to inspire.
Being that way, it's been tough. Getting these label people you need to understand where I'm trying to go. Everytime they see performances like this, the kind of video work I'm doing, it blows people away.
That's where I'm at. I like to write "feel good" music. Inspirational music. I love to storytell.
DLN: What do you feel when you're on stage performing?
AP: In the beginning I'm really anxious. I want to get it done. I want to feel what it's gonna feel like (when it's over). Every show is different.
As far as here, it's mainly hispanic which is fine. If you google me, I'm like the Mexican T-Payne. (Laughs) They love me.
This is a more traditional vibe. I was hoping my music would translate pretty well. Once I grab the mic, all those things you're worrying about go away. It goes away and you're forced to do it. I feel good when I'm on stage.