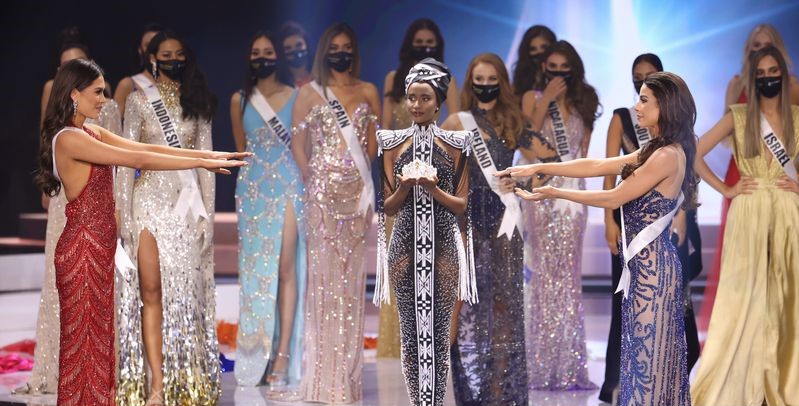 With a touch of Latino empowerment within Miss Universe, with seven Latinas in the Top 10 of the contest, last Sunday 16, a Mexican was crowned for the third time in history
Staff
Delayed by the COVID-19 pandemic, the 2020 Miss Universe Competition took place in Hollywood on Sunday, 16 May, with Mexico's Andrea Meza taking home the crown.
Meza was asked how would she have handled COVID-19 if she was the leader of her country. She responded by saying that she would have a lockdown earlier and that it is important to "take care of our people."
In her concluding statement, Meza focused on changing beauty standards, stating that beauty is not only about how people look but about "people's hearts" and the way they love themselves.
"We live in a society that more and more is more than advanced, and as we advance as a society, we've also advanced with stereotypes," she said.
"Nowadays beauty isn't only the way we look. For me, beauty radiates not only in our spirit, but in our hearts and the way that we conduct ourselves. Never permit someone to tell you that you're not valuable."
Upon the winning announcement, Miss Mexico received her crown, the sash and flowers from last year's Miss Universe, Zozibini Tunzi of South Africa on stage. Brazil's Julia Gama was crowned the first runner-up, and Miss Peru Janick Maceta was awarded the second runner-up.
India's Adline Castelino and Dominican Republic's Kimberly Perez were third runner-up and fourth runner-up, respectively.
Tunzi also took the stage with her final walk before relinquishing her crown. Tunzi became the longest-reigning winner in the history of Miss Universe due to the pandemic delay.
On Sunday, many of the national costumes showcased included a shout-out to the recent political and social issues happening worldwide. Myanmar's Thuzar Wint Lwin, who had lost her costume in shipping, wore a beaded national costume holding a "Pray for Myanmar" placard.
Philippine-born Singaporean Bernadette Belle Wu Ong paraded in a red-white costume with #StopAsianHate on her cape, a reference to the attacks on Asians in various cities in the world. Miss Myanmar was later crowned the winner for the Miss Universe 2020 National Costume segment.
You can also vote for your favorite national costume in Yahoo's poll here.
The 74 delegates were then picked to form the Top 21, and went on to compete in the swimsuit round. Decked in a bright yellow two-piece swimsuit, Miss Philippines had received a lot of love and attention on social media for her look.
The fact that a native of Chihuahua is the new Miss Universe is a source of pride to the state and an honor for Mexico, Gov. Javier Corral said.
"She is not only a beautiful woman but also a very intelligent one with an ample perspective on important issues. She has done activism on women's causes and promoted tourism in Chihuahua. She is also an animal rights defender […] We congratulate her once again," Corral said during a Monday visit to Juarez.
Alma Andrea Meza Carmona, 26, was born in Chihuahua and earned a degree as a software engineer from the Autonomous University of Chihuahua. Corral said she's an entrepreneur with her own brand of sporting attire.
"She will be a great ambassador for Chihuahua and all of Mexico," he said.
Meza beat out out Miss Brazil at the end of the night, screaming Sunday when the announcer shouted "Viva Mexico!"
Previous winner Zozibini Tunzi fit the crown on Meza's head and waited to make sure it would stay in place as Meza beamed and took her first walk to the front of the stage.
Tunzi, a public relations professional who became the first Black woman from South Africa to win the contest, had held the title since December 2019. Last year's ceremony was canceled due to the pandemic.
The pageant was hosted by "Access Hollywood's" Mario Lopez and actor and model Olivia Culpo, the 2012 Miss Universe. It was broadcast live from the Seminole Hard Rock Hotel and Casino Hollywood in Hollywood, Florida.
Ahead of the pageant, Paula M. Shugart, president of the Miss Universe Organization, stated that they had spent months planning a safe competition that followed similar guidelines as last November's 2020 Miss USA competition held in Memphis.
The Miss Universe competition airs in more than 160 territories and countries across the globe including in the U.S on the FYI channel and on Telemundo.
The Associated Press contributed to this story.