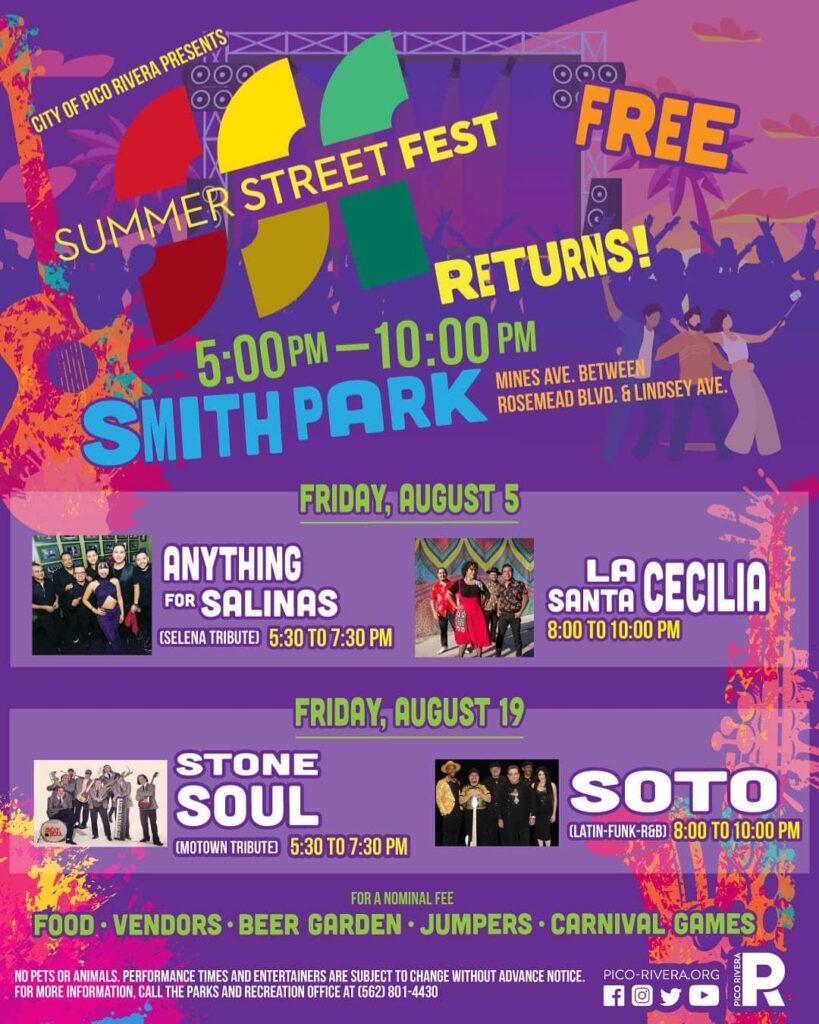 Along with barbecue and a pricey electrical bill, is there anything that says summer in Southern California more than a concert in the park?
This Friday, Pico Rivera's annual Summer Street Fest returns after a two-year hiatus with live music, food trucks, and jumpers. The event, held at Smith Park on Mines Avenue between Rosemead Boulevard and Lindsey Avenue, runs from 5 p.m. to 10 p.m. Admission and parking are free.
"This event is 100 percent family-friendly, so we encourage all families to come out," said city spokesperson Gabriel Castorena.
Friday's entertainment includes Anything For Salinas, a Selena tribute band, who play from 5:30
p.m. to 7:30 p.m. Next up is Grammy Award winners La Santa Cecilia, a Latin-inspired alternative rock band, who play from 8 p.m. to 10 p.m.
Other attractions include vendors, carnival games, and a beer garden.
If you can't make it this Friday, don't fret. Night two takes place on Friday, August 19 and will include performances by Stone Soul, a Motown tribute band, and Norwalk's own SOTO, a Latin/Funk/R&B band.
Summer Street Fest is hosted in conjunction with National Night Out, a nationwide community policing event intended to create relationships between law enforcement and the public. Deputies with the Pico Rivera Sheriff's Station will be in attendance speaking with residents and hosting displays.
City officials advise attendees not to set up their seating for the event before 3 p.m. Uber/Lyft pickup and drop off will be located at the event's entrance at Rosemead Boulevard and Mines Avenue.
Check the City of Pico Rivera's Facebook page for updates.