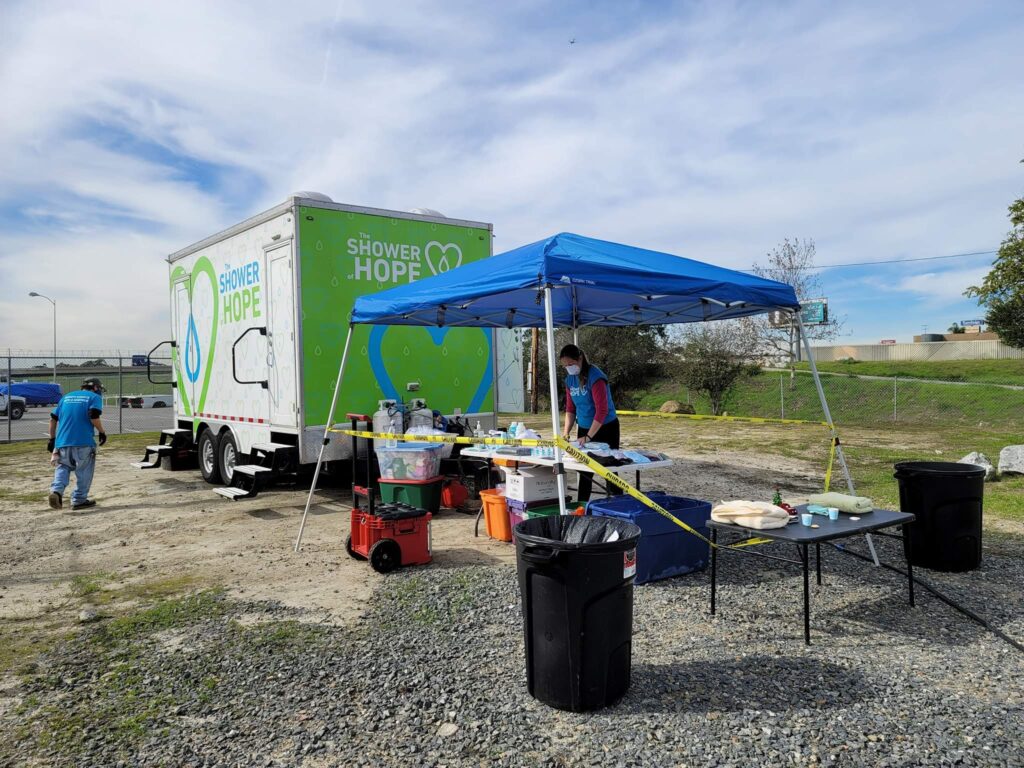 By: Joe Brizzolara
In a dry patch of land located between a Metro lot on Telegraph Road and the Rio Hondo flood control channel, a trailer is parked beside a canopy covering tables topped with towels and toiletries. Folks can access the area from a gravel path that winds down from the sidewalk, a bike path along the channel, or from an encampment underneath the bridge where a scattering of tents are pitched. The trailer offers a weekly service most Downey residents don't conceive of as a service at all, but rather a basic human function: showering.
"It feels good to take a shower," says Paula, her eyes tearing up. "They don't let us use the restroom or anything around here."

Paula lives in her car, an older golden sedan, with her two dogs: Fat Girl and Cacíts. Her sister looks on from the back seat. She's been to the shower unit four times before and told Paula about the service.
Paula's been unhoused on and off since 2016. She lives across the channel in Commerce where she belongs to a community of similarly unhoused people who look out for one another. She and her boyfriend are considering moving somewhere with cheaper housing—Texas or maybe Arizona. She feels the cost of living is getting worse in Southern California, feeling the pinch even at her local convenience store where the price of a small coffee is now $2.
"Coffee's expensive. Can you imagine?" she says with a light chuckle.
She once had housing on Greenwood Avenue and Watcher Street in Commerce but lost it and didn't have enough funds to find new housing. It's a common story playing out around the Southland, one of the most expensive housing markets in the country.
Earlier this year, the Los Angeles Times reported a 16% increase in rents from a year ago in L.A. County while the vacancy rate in this year's first quarter was the lowest it has been since 2001, according to real estate firm CoStar. Median rent in Downey is $1,670 a month, according to Apartment List.
Downey and the County of Los Angeles are partnering with The Shower of Hope, a nonprofit organization, to bring this mobile shower unit to Downey every Sunday from 11 a.m. to 3 p.m. The organization operates across the county as well as in Riverside and Bakersfield.
"Can you imagine not being able to access something as simple as a shower?" wrote County Supervisor Janice Hahn in an email to Downey Latino News.
Apart from offering a basic human need, The Shower of Hope is also a critical access point for the Los Angeles Homeless Services Authority's (LAHSA) to interface with the community and potentially facilitate their placement in housing.
"The Shower of Hope program is a way we can not only provide people the basic dignity of a hot shower, but also helps build relationships and trust between service providers and the folks living in the encampments they are trying to help house," wrote Hahn. "It is a great program, it works, and I am proud of the work my office has done to bring these mobile showers to Downey."
LAHSA's most recent homeless count reports around 4,700 unhoused persons residing in LA County Supervisorial District Four, which includes Downey. That report also found that most unhoused people that receive housing, stay housed. In 2018, 88% of people that were placed in permanent housing through LAHSA's system have not returned to homelessness.
The Shower of Hope began in 2017 after organizers with Monday Night Mission—an informal group that distributed food in Skid Row—observed a lack of shower access among the unhoused population. What began as one shower unit has blossomed into eight, along with other services, including a shared housing program for housing insecure community college students and secured parking lots for folks living in their cars.
"We see folks who have been in situations where they haven't had access to showers or bathrooms and they feel very ashamed of the way they look," said Mel Tillekeratne, co-founder of The Shower of Hope. "(When) someone's coming out of the shower, they're happy, they're feeling good about themselves. That's your best window to connect them to (homeless) services."
A volunteer with the program connected Tillekeratne with Downey Councilmember Catherine Alvarez, who he strongly credits with bringing the program to Downey. Alvarez says she worked with then-Deputy City Manager Aldo Schindler to secure funding and a location. The program costs the county $30,000 for seven months of service, according to spokesperson for Hahn.
"I pushed for this organization to come here (in partnership with) the city for (several) months," said Alvarez. "Finally, we got it. And the (unhoused population doesn't) want it to go away."

The trailer has four showers, each with a sink and a mirror, which are heated by a tankless water heater. Guests are given 15 minutes each unless they are disabled and require more time. Towels, hygienic products, and shaving razors are provided. Socks and underwear are also provided when available.
Ghassan Lebbos, a staff member with The Shower of Hope, says his experience manning shower units at roughly 20 different locations has allowed him to relate to unhoused individuals.
"If you've gone through a bad time, you can relate," said Lebbos. "You can see the good in people. A lot of people who don't do this kind of work are dismissive of the unhoused community, but not everyone is mentally (ill) or using heavy drugs."
"A lot of people are only a (paycheck) or two away from losing everything… (without) a support system, like a big family, there's nothing they can fall back on," he added.
Along with Shower of Hope, other charitable organizations also use the site to provide services and resources. FoodHelp, a food bank affiliated with Downey First Christian Church, provides food like baked goods to shower guests. The Little Lion Foundation, a nonprofit cat rescue based in long beach, is connecting with unhoused residents in the hopes of getting their pets spayed or neutered.
Tillekeratne says that those who want to help can donate supplies or make a financial contribution but they also need folks on the ground, including barbers.
"We need volunteers," said Tillekeratne.
Paula says the workers are nice and she is happy that the shower unit exists. She's thankful to be clean.
"It's good that someone's doing something," said Paula.