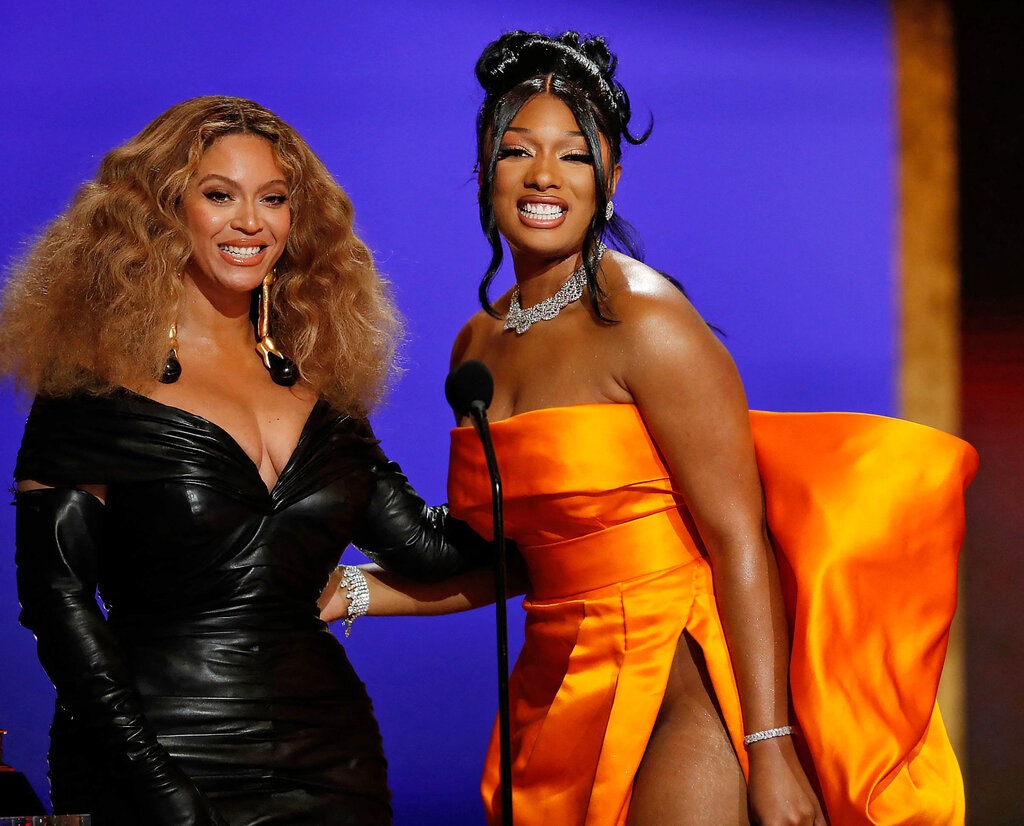 Beyoncé is now the most-awarded woman in Grammys history, with her 28th win, overtaking bluegrass singer Alison Krauss
Staff
With her four wins Sunday night, Beyoncé now has the most Grammys of any singer ever while Taylor Swift became the first woman to win the Grammy for album of the year three times when "Folklore" earned that honor on Sunday's 63rd Grammy Awards, OC Register informed.
Swift, who had previously won album of the year for "Fearless" and "1989," thanked the fans for joining her and collaborators including producers Aaron Dessner and Jack Antonoff for an album in which many fans found comfort during the pandemic weirdness of 2020.
"You guys meet us in this imaginary world that we created," she said, dressed in floral print gown and matching face mask.
Billie Eilish, who a year ago swept the Grammy's prestige categories, grabbed another one on Sunday when "Everything I Wanted" won record of the year, the final award of the night.
"Hey, Ringo, what's up?" the 19-year-old greeted the 80-year-old Beatle who'd presented the award. Then the teen said she didn't deserve it, that Megan Thee Stallion, whose "Savage" was also nominated in the category, really should have gotten the Grammy.
"Megan, girl," Eilish said. "I was gonna write a speech about how you deserve this, but then there's like no way they will choose me".
"You had a year that I think is untoppable. You are a queen. I want to cry thinking about how much I love you."
Beyoncé, now with 28 Grammys, passed country singer Alison Kraus on Sunday to become the biggest Grammy winner of all time for any singer male or female. She now is tied with producer Quincy Jones and three behind conductor Georg Solti.
"As an artist, I believe it's my job and all of our jobs to reflect the times," Beyoncé said after winning best R&B performance for her single "Black Parade." And it's been such a difficult time.
"So I wanted to uplift, encourage, and celebrate all of the beautiful black queens and kings that continue to inspire me and inspired the whole world."
H.E.R. won Song of the Year for the emotional "I Can't Breathe" — a tune of protest in response to the May 2020 killing of George Floyd by Minneapolis police.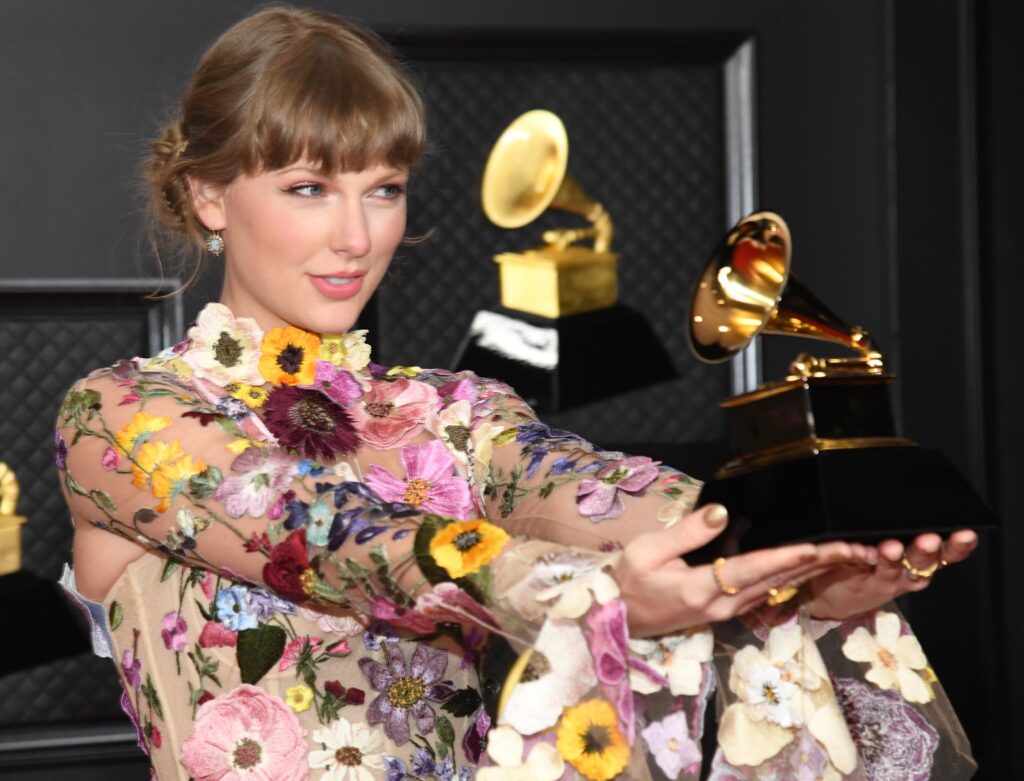 "We wrote this song over FaceTime and I didn't imagine that my fear and my pain would turn into impact," H.E.R., a k a Gabriella Sarmiento Wilson, said in her acceptance speech. "But remember, we are the change that we wish to see and that fight we had in us the summer of 2020 — keep that in you."
While Harry Styles didn't get any nominations in the Big 4 categories this year — and surely he deserved Record and Song of the Year nods for his No. 1 solo hit "Watermelon Sugar" — he did win Best Pop Solo Performance for the song, as well as the honor of doing the opening performance at the Grammys.
The Grammys — hosted by Trevor Noah and taking place in and around the Los Angeles Convention Center, near the usual venue, the Staples Center — finally kicked off after a months-long delay due to the coronavirus pandemic.
Here is some winners for the 63rd Grammy Awards.
Album of the Year
"Folklore" — Taylor Swift — Jack Antonoff, Aaron Dessner & Taylor Swift, producers; Jack Antonoff, Aaron Dessner, Serban Ghenea, John Hanes, Jonathan Low & Laura Sisk, engineers/mixers; Aaron Dessner & Taylor Swift, songwriters; Randy Merrill, mastering engineer.
Record of the Year
"Everything I Wanted" — Billie Eilish — Finneas O'Connell, producer; Rob Kinelski & Finneas O'Connell, engineers/mixers; John Greenham, mastering engineer.
Best R&B Performance
"Black Parade" — Beyoncé.
Best Pop Vocal Album
"Future Nostalgia" — Dua Lipa.
Best Rap Song
"Savage" — Beyoncé, Shawn Carter, Brittany Hazzard, Derrick Milano, Terius Nash, Megan Pete, Bobby Session Jr., Jordan Kyle Lanier Thorpe & Anthony White, songwriters (Megan Thee Stallion Featuring Beyoncé).
Song of the Year
"I Can't Breathe" — Dernst Emile II, H.E.R. & Tiara Thomas, songwriters (H.E.R.).
Best Pop Solo Performance
"Watermelon Sugar" — Harry Styles.
Best Country Album
"Wildcard" — Miranda Lambert.
Best New Artist
Megan Thee Stallion.
Best Compilation Soundtrack For Visual Media
"Jojo Rabbit" (Various Artists).
Best Score Soundtrack For Visual Media
"Joker" — Hildur Guðnadóttir, composer.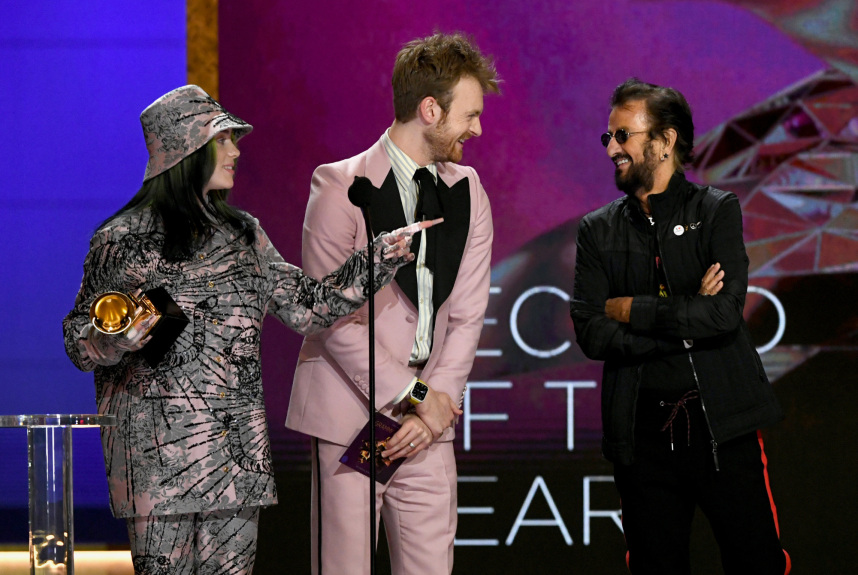 Best Song Written For Visual Media Category
"No Time to Die [From No Time To Die]" — Billie Eilish O'Connell & Finneas Baird O'Connell, songwriters (Billie Eilish).
Best American Roots Performance
"I Remember Everything" — John Prine.
Best American Roots Song
"I Remember Everything" — Pat McLaughlin & John Prine, songwriters (John Prine).
Best Americana Album
"World on the Ground" — Sarah Jarosz.
Best Bluegrass Album
"Home" — Billy Strings.
Best Traditional Blues Album
"Rawer Than Raw" — Bobby Rush.
Best Contemporary Blues Album
"Have You Lost Your Mind Yet?" — Fantastic Negrito.
Best Folk Album
"All the Good Times" — Gillian Welch & David Rawlings.
Best Regional Roots Music Album
"Atmosphere" — New Orleans Nightcrawlers.
Best Global Music Album
"Twice As Tall" — Burna Boy.
Best Children's Music Album
"All the Ladies" — Joanie Leeds.
Best Spoken Word Album (Includes Poetry, Audio Books & Storytelling)
"Blowout: Corrupted Democracy, Rogue State Russia, and the Richest, Most Destructive Industry on Earth" — Rachel Maddow.