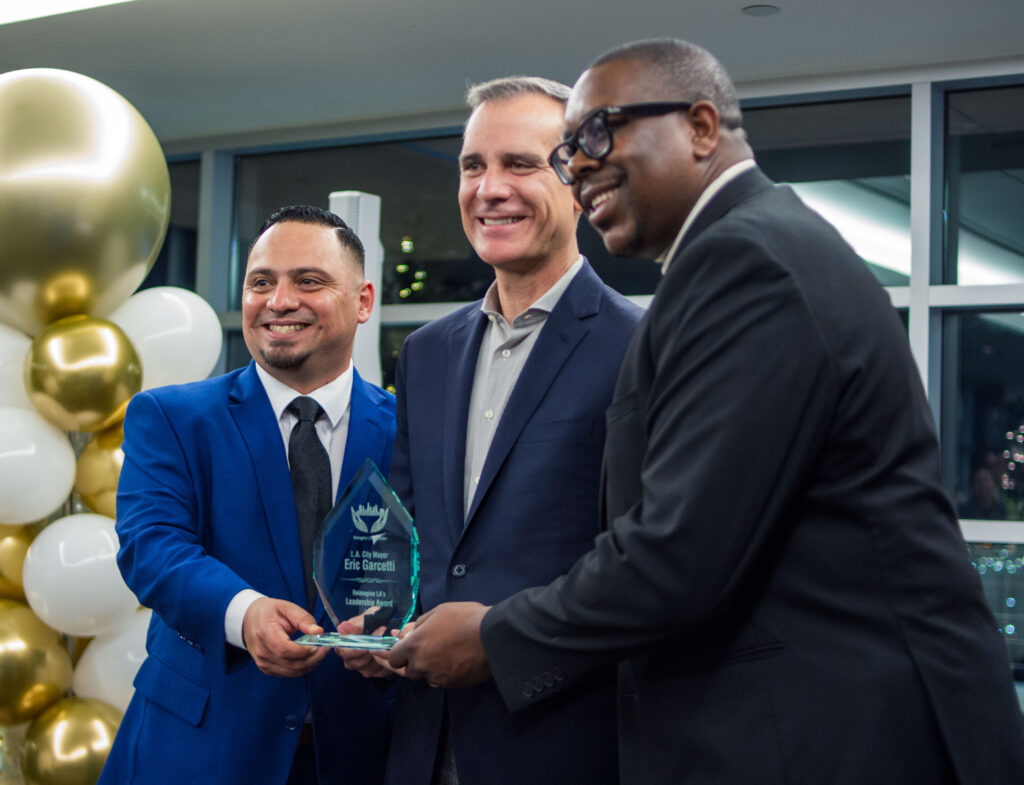 Staff
The 18th annual Holiday Toy Drive and Mixer was hosted on December 20 at the San Pedro Elks Logs. Honored guests included Los Angeles Mayor Eric Garcetti as well as Ivana Rojas, an actor who plays Sarai Damien on the Netflix series "Gentefied."
SoCal Gas, awarded Social Corporate Partner of the Year, sponsored the event. Downey Latino News was also an event sponsor.
Reimagine LA Foundation hosted the event which was aimed at continuing support for vulnerable families across LA County and at the US-Mexico border during the holiday season.
Organizations that were funded included: Homies Unidos, Latino Coalition of Los Angeles, and Resilient Agency. Event sponsors included: Aid America, CannaTek, and Cannacoin.
"This year for the first time ever, there was a special twist added with the addition of the 1st Annual Reimagine Awards," said Billy Navidad with AID AMERICA. "(We) recognized leaders for their leadership, public service, philanthropy, corporate social responsibility, business and labor."
The formal event was held in a lounge perched above the glimmering lights of the Port of Los Angeles. The evening featured a musical performance by Esther Anaya, a Colombian born violinist whose music incorporated hip-hop beats.
Raúl Claros, chief strategist for Reimagine LA Foundation and the night's emcee, noted that Latino Coalition of LA (which he founded in 2009) endorsed Garcetti early on in his career. Gacetti was first elected to the Los Angeles City Council in 2001 and is expected to leave the office of Mayor soon to become U.S. ambassador to India.
Garcetti received the event's Leadership Award. Clores applauded Garcetti for his accessibility since taking office and for delivering on issues like Indigenous Peoples Day, marijuana legalization, and aid for those affected by wildfires.
"The port of Los Angeles, together with our twin port of Long Beach, brings in about 40% of all the goods that come into our country," said Garcetti. "I'm so proud of ILWU Local 13, who was also with me at the very beginning, for being honored tonight. This doesn't happen because of machines and ships, this happens because of flesh and blood, men and women."
ILWU Local 13 was awarded the Local Union of the Year award. Delta 9, a retail cannabis business, was awarded the Small Business of the Year award
"Doesn't the city lay out like a bed of jewels at night?" Garcetti mused.
"Each one of those lights, I always think, is like a dream. One person's dream: maybe it's to be a musician. Maybe it's to be an actor. Maybe it's to be a longshore worker. Maybe it's to start a nonprofit, maybe it's to bring some peace to your neighborhood. Maybe it's just to make it through the night."
"That dream that we all have in our heart, and in our head, and in our gut, here in Los Angeles, this is the city of second, third, fourth, fifth chances. We just never give up," Garcetti said. "Alex Sanchez knows what I'm talking about."
Event attendee Alex Sanchez is a co-founder of Homies Unidos, a violence prevention organization which offers programming such as deportee assistance and job training. A former gang member and state prisoner, Sanchez was deported to El Salvador in 1994.
According to the group's website, he returned to Los Angeles and became one of the group's co-founders in the late 1990's.
Garcetti shared his own family's immigrant experience. Garcetti's grandfather came to the United states on his mother's back after Garcetti's great-grandfather was killed in the Mexican revolution.
He was impoverished and hung out with Jewish gangsters in Boyle Heights like Mickey Cohen, Garcetti recalled. He was arrested by a Los Angeles Police officer who gave him a second chance.
The officer would rise to the rank of Lieutenant and hold an office that Garcetti would one day claim—Mayor Tom Bradley.
"If (my grandfather) were alive today he would have been classified as 'at-risk,' maybe even a gang member," Garcetti said. "None of us (are) supposed to be here. And yet, all of us deserve to be here. All I've tried to do is build a city of belonging."
"You can start by doing a little bit, even if that's just for one person, it makes a huge difference," Rojas said about charitable work while accepting her award for Philanthropist of the Year.
She is planning on partnering with Reimagine LA to start her own nonprofit organization aimed at bettering the lives of youth through sports, the arts, and education.
LA Councilmember Curren Price was awarded the Public Servant of the Year award.
Other organizations that were funded included: Community Warriors 4 Peace, Koreatown Youth & Community Center, University Little League, Quetzal Fest USA, Crenshaw Church of Christ, Metropolitan Church of Christ, ASAF ÁNGELS, and United Latinx Fund.
Other organizations that event sponsors included: Red Apple Air, "KalienteGirls Show" on DashRadio, Hope Gatekeepers, California Rising, UNO Partners, Cristina Castillo, FashionVictim Rehab.