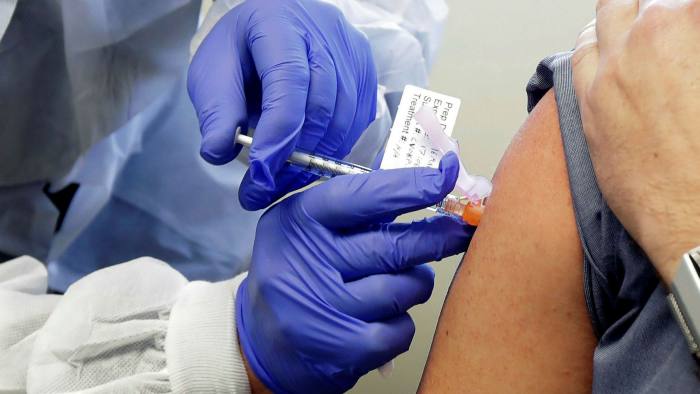 This Friday, 15, the County announced that it will launch five sites which were chosen for their regional accessibility and their ability to handle large capacities of people, but for now sites will be serving only healthcare workers
Staff
Los Angeles County is expanding its capacity for large-scale COVID-19 vaccine distributions by opening five large-scale vaccination sites across the County.
One of those sites will be at L.A. County Office of Education in Downey, however the City clarified through its social media that "The vaccination site will be vaccinating healthcare workers in Phase 1A. The Distribution of COVID-19 Vaccines is managed by Los Angeles County Department of Public Health., and not the City of Downey or Downey Unified School District ".
These large-scale vaccination sites will come online on Tuesday, January 19, and will be able to vaccinate approximately 4,000 people per day at each site, significantly increasing the number of frontline healthcare workers vaccinated.
Los Angeles County aims to complete 500,000 additional vaccinations among healthcare workers by the end of January. All vaccinations are administered free of charge.
Only priority groups identified by the Centers for Disease Control and Prevention (CDC), with additional guidance provided by the state, are receiving the vaccine; currently, only frontline healthcare workers, residents and staff in skilled nursing facilities (SNFs) and other long-term care facilities are eligible for vaccination.
Eligible healthcare workers must have verification documents, which include a healthcare worker badge with a photo, or a professional license and a photo identification (ID), or a signed letter from an employer and a photo ID, or a payment stub from a healthcare provider with a name and a photo ID.
Residents who are not in the eligible categories should not attempt to register for a vaccine appointment, at this time. Doing so will take an appointment slot away from the frontline healthcare workers.
"Los Angeles County is setting up these sites throughout the County to vaccinate our most vulnerable and at-risk residents to protect them from this deadly virus," said Los Angeles County Board of Supervisors Chair Hilda L. Solis, Supervisor to the First District.
"Equity is our North Star in the distribution of the vaccine, and I thank long-term stakeholders such as the Pomona Fairplex for stepping up and working with the County to make getting a vaccine as easy, convenient and as safe as possible in hard-hit communities."
"Getting the vaccine to every resident is our top priority in the fight to end this pandemic," said Supervisor Holly J. Mitchell. "I'm glad to see The Forum— which serves our communities in so many ways— expand from testing to offering vaccine distribution. This will be a vital resource for the Second Supervisorial District as we remain vigilant about practicing safety guidelines and waiting our turn to ensure our essential workers and most vulnerable residents are vaccinated."
"My thanks to Cal State Northridge for working with the County to make its campus available to administer urgently needed vaccines," said Supervisor Sheila Kuehl. "The CSUN site, along with other Mega Points of Distribution (MPOD) sites, will dramatically increase the number of County residents who can be vaccinated each day. This is a dynamic situation, so please continue to pay close attention to the news coming from the County about our vaccination plans, so you know how to get one as soon as you are eligible."
"In LA County we have to vaccinate 10 million people, twice," said Supervisor Janice Hahn. "These large-scale vaccination sites are going to help us get there by massively increasing our capacity to vaccinate people quickly and efficiently."
"The County's efforts to fight the COVID-19 pandemic rely on using all of the tools that we have available," said Supervisor Kathryn Barger. "As science and health experts continue to address this pandemic, these vaccines will help reduce the spread of the disease in Los Angeles County. These MPOD sites will help support the County's efforts to protect our residents and restore the fabric of our communities."
"As we continue to vaccinate our frontline healthcare workers, these vaccination sites will have the capability to increase the number we are vaccinating daily many times over," said Barbara Ferrer, Director of Public Health. "By vaccinating those at the highest risk as soon as possible, we have an opportunity to stabilize our healthcare system, prevent people from being hospitalized from COVID-19, and most importantly, save lives."
The County has also launched a new "Know Your Tier" public information campaign that highlights the County's new vaccination website, VaccinateLACounty.com, and explains how residents can find out when they will be eligible to be vaccinated.
The large-scale vaccinations sites are in addition to more than 75 vaccination locations that have been established to facilitate the administration of doses to individuals within Phase 1A, tiers 2 and 3.
To date, the Los Angeles County Department of Public Health has opened more than 20 designated vaccination centers for frontline healthcare workers and has made arrangements with dozens of pharmacies to facilitate vaccinations for frontline healthcare workers within Phase 1A.
LA County began vaccinating frontline healthcare workers in December. This week, an estimated 80,000 vaccine doses will be administered at the community vaccination sites.
The address of the vaccination center is at L.A. County Office of Education, 12830 Columbia Way, Downey, CA 90242.