In the face of adversity, Emmanuel Salazar coordinated and co-wrote his own book, "Letters to the President", with the help of his JEL program administrator, Miriam Burbano, at the age of 12.
By Clarissa Arceo

Emmanuel Salazar is a 12-year-old boy who attends Los Alisos Middle School Dual Immersion program and lives in Norwalk, California with his parents and older brother. He has received numerous recognitions and awards for his success in school and was invited to meet with the mayor of Norwalk a few years back and participate in the inauguration by reciting the Pledge of Allegiance.
"I love helping others, it's what I do best," he says, "I always give my 100% in everything that I do." Salazar has also received recognition at the University of Pomona for his participation in their Math and Engineering Program, awards for being on the Principal's Honor Roll, the Ribbon for Biliteracy Pathway Award, and medals from the city of Norwalk and his school (as well as the Medal of Valor).
In his free time, he enjoys playing video games, riding his scooter, and going to the park. Salazar plays the cello in his school's orchestra and is also part of multiple clubs and programs at his school; the JEL (Jovenes Escritores Latinoamericanos) organization was what prompted him to write his book.
Miriam Burbano, his director at the JEL organization, gave him the idea of writing the book when he was deciding what to write about one day during the program.
Salazar then decided to ask 12 of his friends if they were interested in contributing to his anthology; They were simply prompted to write about what they would do if they were president and how they would change their communities. Thus, Letters to the President (or Cartas al Presidente) began its construction, taking course over eight months and finally being published on September 12, 2020.
Letters to the President is an anthology consisting of multiple letters, organized, and revised by Burbano and Salazar, on suggestions and prompts for schools and their surrounding communities. Salazar writes mostly about the lack of dual-language schools and the benefits they would bring to the community in terms of broadening the learning within the Latinx/Hispanic community.
In the midst of writing his book, Salazar shares that he was fighting for a nearby school in Norwalk, CA. Just two months ago, the Norwalk School District was considering closing down Edmondson Elementary, a school located in a predominantly Latinx/Hispanic, low-income area.
Edmondson Elementary is also one of the only 3 dual-language schools in Norwalk; And Salazar says that this is not the first time they've targeted such an area.
When he and his mom found out about the district's plan, they decided to gather a group of people to help save the school; While they were discussing which schools to close down, Salazar and his mom gathered by the school with a group of about 100 people and created livestreams and videos to send to the school board.
When they discovered he had written letters to Congress and the Senator, the district backed down and decided against closing Edmondson Elementary.
Just last summer, Salazar saved a teacher at his school from losing their job. When he discovered that his music teacher was going to be fired due to low funding in the music department, Salazar immediately came up with a plan to address his school and write letters to the Superintendent, district, and director of the school as well as to the Senator and Congress.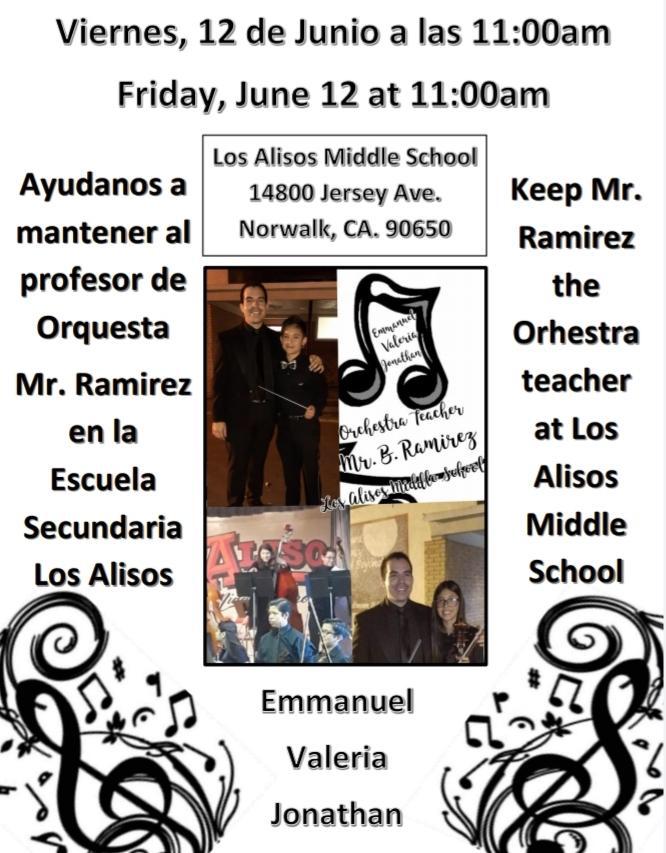 When they continued to put down his suggestions, Salazar declared that he would sell copies of his book at every corner until they came up with the money to continue paying his teacher. After being addressed and feeling threatened by Salazar's persistence, the school decided to keep the music teacher employed in their program.
Emmanuel says that the teacher is not only great at his job, but great with his students. He continues, "It didn't make sense why they were firing him, he's an awesome teacher. I've known him for about 3 years because he used to teach at my old elementary school. They would be making a mistake if they fired him."
Salazar moved to the United States with his family when he was just 4 years old and found difficulty in adjusting. In his earlier years of school, he was segregated from the rest of his classmates because he spoke Spanish; His older brother was discriminated against in high school because he has Down Syndrome.
When he addressed his school's principal at the time, they turned him down and continued to oppress him. No one reached out to the family or offered to help them when they first moved and were struggling with fitting in; They had no family in the States and found it difficult to get the help they needed.
But Salazar says that he uses these hardships as a way to stay strong and continue helping his family, as well as others, in any way that he can.
His parents and brother have always been supportive of him and his decisions and continue to be the backbone of/to his motives. Everyone around him seemed to be extremely excited and supportive when discovering he had published his book at such a young age.
Salazar says that he coordinated this book in order to bring hope to communities like his and bring about a long-needed change. He also mentions that he is currently during constructing a new book, Youth During the Pandemic.
His mother, Laura, expresses her admiration for her son, saying that she knew he would be someone since he was younger. "Since he was young, he's always strived to be the best at what he does. He's so intelligent, he's always the first one to class eager to learn, and I'm so proud of him. He's already accomplished many things and will continue to do so."
Emmanuel shares that he feels a heavy weight of responsibility to succeed and be the voice of those who are unheard like he and his family. As a Latinx community, it is our job to stay united and help one another because it's twice as hard for someone of Hispanic/Latinx descent to succeed.
"It's our job as the youth to bring this change," Salazar says, "And it sometimes feels like no one else is doing it, so I will." Emmanuel Salazar strives to be the change that he desires to see one step at a time, starting with Letters to the President, or Cartas al Presidente.
The phrase
"Racism and discrimination are not part of our values and have no place in a society of respect and equality for all." – Emmanuel Salazar