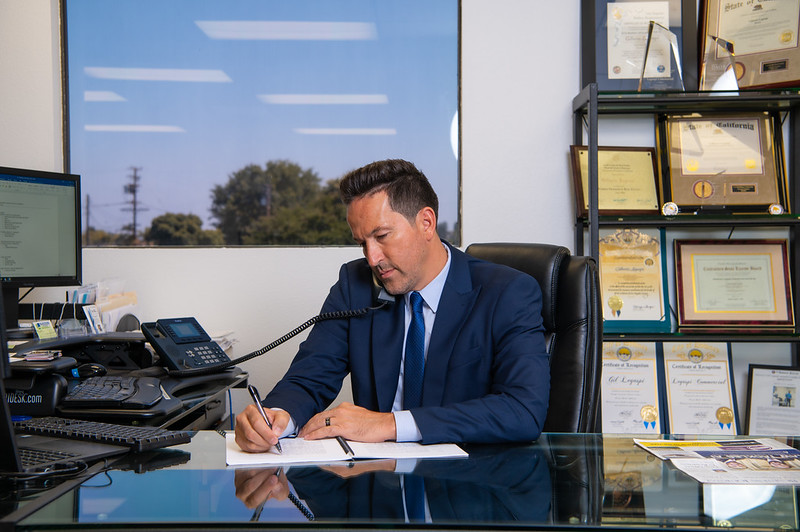 Joe Brizzolara
Downey Latino News sent questions about a variety of issues to the candidates running in the special election to replace recalled Councilmember Catherine Alvarez in Downey City Council District 3 on Nov. 7. The introduction below was collected from independent reporting, news coverage, and their responses and websites. Responses have been lightly edited for clarity. Lengths of residency in Downey and the district were self-reported by the candidates and have not been independently verified.
Gil Contreras Legaspi, like every candidate in this race, says Downey needs "more police officers." Unlike his competitors, however, Contreras actually dons the badge as a part-time reserve officer for the Los Angeles Police Department.
"We need more boots on the ground," Legaspi said at a recent candidate forum.
"I'm going to tell you the solution, I have ten years of law enforcement experience," he said, calling for hiring from other police departments, a job fair, and a first-time homebuyers program for first responders.
Along with being a reserve officer, the over 20-year resident of Downey and 15-year resident of District 3 is also a commercial real estate broker and chairs the Local Government Relations Committee of the Downey Association of Realtors (DAOR). Legaspi, like the DAOR and his opponents, opposes stricter caps on rent increases. He also pledges to "fight against any excess fee or tax" that would prove to be "an unnecessary financial burden" when asked for solutions to prevent renters from being priced out of Downey.
Legaspi was appointed to the Los Angeles County Tax Assessment Appeals Board–a 3-member panel that settles disputes between taxpayers and the County Assessor's Office–by Supervisor Janice Hahn in 2022 and also serves as an ambassador to the Downey Chamber of Commerce, a member of the Downey Rotary Club, and on the "Keep Our Children Safe" committee at his church, Our Lady of Perpetual Help.
Why are you running?
I am running for City Council because I believe we need someone to bridge the divide in City Hall and focus more on public safety and take an active approach in address[ing] the need[s] of our residents.
What is the biggest problem facing Downey and how do you plan to address it if elected?
The biggest problem facing Downey is our increase in crime. As councilmember, I will fight to hire more police officers and give our police department the resources they need to do their job effectively and efficiently.
Many of the candidates in this cycle have referenced "family values" in interviews and in campaign literature. How would you define "family values" and how does it relate to being a member of the city council?
I would define "family values" as those that are aimed at supporting our families here in Downey. That includes prioritizing family-friendly businesses, supporting youth programs, and ensuring our neighborhoods are safe for future generations.
The average monthly rent for an apartment in Downey is $2,225, up 23% from January 2021, according to the apartment search website rentcafe.com. Multiple cities in South East Los Angeles County have recently placed caps on annual rent increases beyond the hard cap of 10%–5% plus inflation or 10%, whichever is lower–passed by the state in 2019. Bell Gardens set a cap of 50% of inflation or 4%, whichever is less; Maywood's maximum rent increase is 4%; Cudahy's cap is the change in inflation or 3%, whichever is less.
Do you support a cap on annual rent increases in Downey beyond the state cap?
No. I believe this should be left to the renter and property owner to negotiate an agreement that is fair to both parties.
What are other solutions to prevent renters from being priced out of the city due to rising rents?
As a council member, I will fight against any excess fee or tax in this city that will place an unnecessary financial burden on both our business and our residents. We should strive to keep our residents' money in their pockets, not in city hall.
In 2016, California voters passed Proposition 64, which legalized the use of recreational cannabis by adults 21 and over, by 14%. In Downey, the margin was much slimmer. Voters in this city passed Proposition 64 by only 2% (51% in favor, 49% opposed). While legalizing personal use statewide, the law allows local governments to ban cannabis storefronts through permitting and zoning and current members of the city council have signaled their opposition to commercial cannabis.
Do you support a voter referendum on permitting cannabis storefronts in Downey?
No. I do not support allowing cannabis storefronts here in Downey.
Cities like Los Angeles and Long Beach have city auditors or controllers–independent positions that regularly conduct performance and financial audits aimed at guaranteeing effective and accountable government.
Do you support the creation of a city auditor in Downey?
Undecided. One of my key platform points is increased transparency. I can absolutely see a city auditor leading to a more transparent government, and would love to explore the option in further detail.
What reforms do you support to increase the transparent and effective use of city funds?
As a council member, I will be an active listener in the community and host town halls and listening sessions to engage and work with our residents to best understand where our priorities should be. There is no better way to understand the needs of our residents or how we should prioritize our funds than speaking with our constituents and hearing what matters to them.
According to the U.S. Census Bureau, 66% of Downey residents 5 years old and over live in a household where a language other than English is spoken. Currently, members of the public who attend city council meetings and are in need of translation must make a request 48 hours in advance. While city staff is able to provide impromptu assistance to community members who wish to deliver public comments, there is no designated translator at city council meetings.
Would you support employing a designated translator for city council meetings?
Yes.
Downey LINK, a bus line that covers the entire city, traveled over 102,000 miles and had 75,000 boardings in the fiscal year 2022-2023, according to the City Manager's office. In June, Downey LINK reinstituted a 50 cent fare upon boarding after suspending fares for three years due to the pandemic. Many transit advocates support transitioning towards fare-free transit systems, thereby increasing usage and easing the burden for economically vulnerable passengers who often make up a large percentage of users.
Would you support increased funding for Downey LINK in order to facilitate a fare-free transit system?
Undecided. I believe increasing accessibility to public transportation would benefit both our residents, and our local businesses, and will absolutely discuss this option further when on council.
According to the 2023 homeless count released by the Los Angeles County Homeless Service Authority, service planning area 7–which includes Downey and dozens of surrounding communities–saw a 36% increase in the number of unhoused residents from last year, an increase of 1,730 people. Countywide, the number of people experiencing homelessness in shelter was similar to last year, but the number of unsheltered individuals rose by 14%. Currently, no homeless shelters are located within the City of Downey, and the county-run Hondo Center of Healing is the only interim housing within the city with 80 beds and wraparound services.
Would you support developing housing for unhoused individuals within the City of Downey?
Undecided. I support aiding our unhoused neighbors in any way we can that leads to a sustainable solution that keeps address[ing] the many factors that lead to homelessness. We must ensure that we have programs to help those in need get back on their feet in addition to housing if we want to truly tackle this issue.
Should the police department budget increase, decrease, or stay the same?
Increase.
Should the fire department budget increase, decrease, or stay the same?
Increase.
Which city department or program is most in need of increased funding, and why?
Our police department needs more funding to hire more police officers and have any resource the[y] need to keep our residents safe.