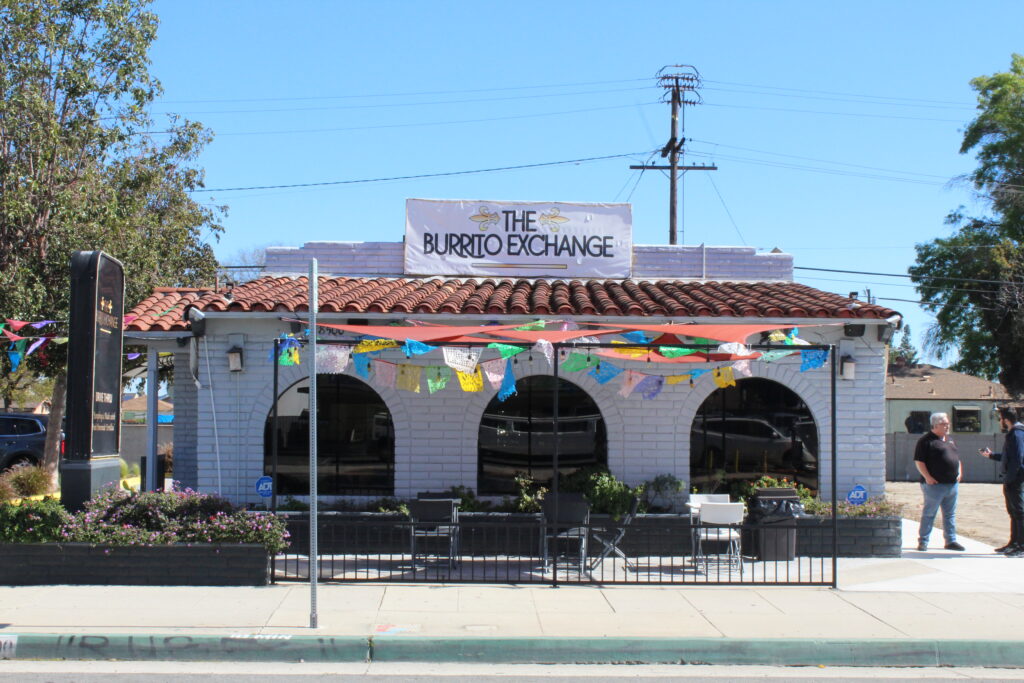 Joe Brizzolara, Lukas Luna
Those who grew up with Mexican-American cooking are sure to feel a sense of familiarity upon entering The Burrito Exchange in Pico Rivera. When walking up to the counter, one is greeted with the smells of a grandmother's kitchen, perhaps—freshly baked tortillas, seasoned ground beef-style carne asada cooking.
It's also located at the site of a former Taco Bell that opened in 1967 and closed in 2001, so almost everyone else, Mexican heritage or not, is unlikely to find this spot too foreign from their own dining experience.
The restaurant is by no means massive. Encompassing a small dining room (once the location of a fire pit, a signature of early Taco Bells), a patio, and a drive through, one could almost be forgiven for overlooking it. Once inside, though, the contemporary utilitarian design paired with the faux-Spanish colonial affectations of an early Taco Bell will likely leave an uncanny impression. A sign with the restaurant's name covers the building's roofline, which once incorporated a square bell tower.
The menu is filled with home style favorites like breakfast burritos bursting with refried beans and Spam or weenies and, of course, those tortillas which are made daily before opening.
"We make our homemade flour tortillas every day," Burrito Exchange owner Robert Sandoval said. "The lady comes [to make them] very early in the morning, so we can have fresh tortillas on a daily basis."
The Burrito Exchange is authentically Mexican-American fare. Sandoval pulls from a well of family recipes that have themselves migrated north, updated to meet their new United States environs and a tight budget. No accident, Sandoval says, who wanted to offer the food that he grew up with.  
"The tortillas, the salsa, [they] are my mother's recipes," Sandoval said. "The beans [as well]."
"That's what I grew up on," he says about entrées like a burrito with chopped hot dogs and eggs. "Other meats [were] so expensive."
Growing up in a low-income, single-parent household in East Los Angeles, Sandoval's mother put him and his siblings to work on a weekly rotation of chores which included cooking family meals. The toil paid off as Sandoval would eventually embark on an over 30-year career in food service. 
Sandoval says quality is key, and it shows in his food. The handmade tortillas are fluffy, the locally sourced asada is juicy without being overly greasy. 
The chorizo burrito is not actually chorizo at all but is instead filled with longaniza, a sausage similar to chorizo but leaner.
The salsas are fresh and come in three varieties: a creamy habanero, a potently crimson salsa roja, and a tangy salsa verde that has some bite.
The chile rellenos, made in house, are truly something to write home about. Eschewing the egg batter that too often becomes soggy with some restaurants' relleno, Burrito Exchange serves up a roasted poblano pepper stuffed with mozzarella cheese—a surprising choice.
"It has a better consistency," Sandoval said about opting for mozzarella over jack cheese. "Nice and chewy… gooey."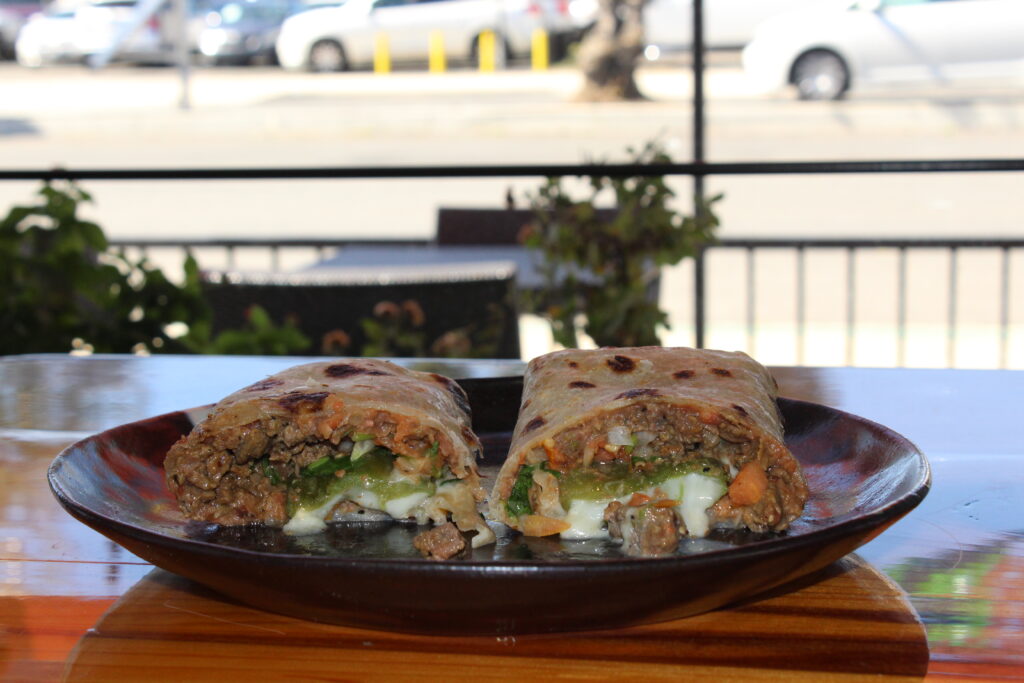 A breakfast burrito featuring nopales—cactus, to the uninitiated—is one of Burrito Exchange's most popular items, Sandoval says. The nopales is a nod to the cuisine of Jalpa, a region of Zacatecas from which Sandoval's family originates. The nutritious plant is ubiquitous in Jalpa and can be found in meals ranging from a breakfast of papas and huevos to a dinner-time steak.
The classic breakfast pairing of bacon, potatoes, and eggs ultimately does not fare as well as the Asada with Relleno or Spam and Egg burritos. Though far from the worst version of this early morning staple, it is impossible to shake the feeling that something is missing. The culprit would seemingly be the bacon. In the mess of eggs, potatoes, and beans, the crisp edges usually provided by the strips of pig fat are totally absent. I'll order my bacon crispy next time.
Those wishing to venture outside the titular burritos are catered to as well. The establishment offers up a serviceable and simple chicken taco. When topped with habanero salsa, it's a nice teaser for some of the more prominent items on the menu.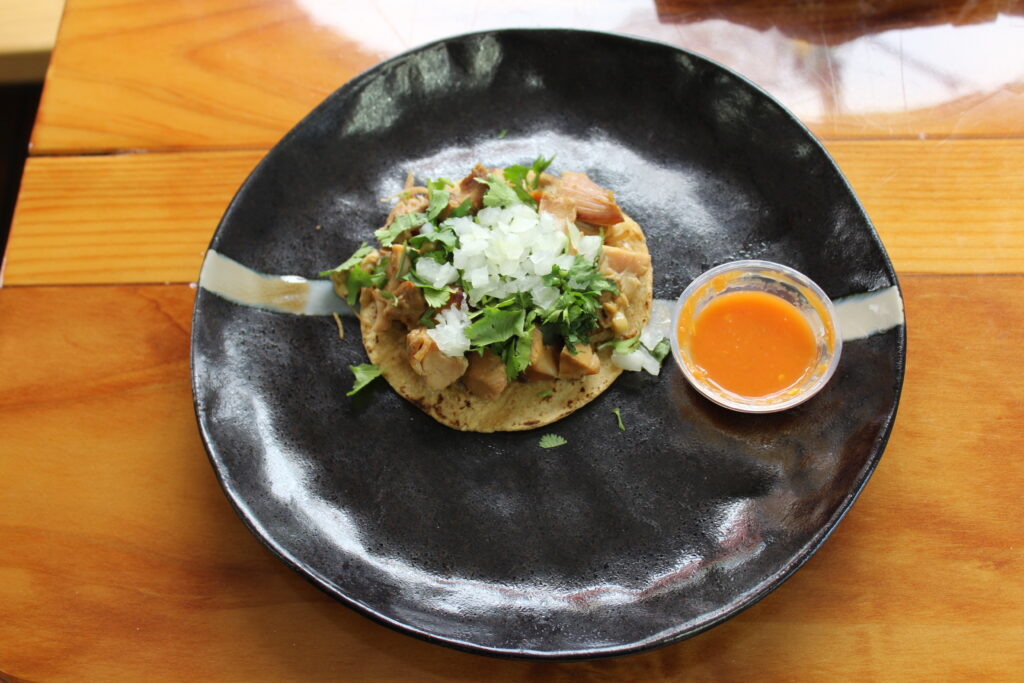 Close to two decades before the opening of the Taco Bell location which Burrito Exchange currently occupies, the restaurant's founder, Glen Bell, likely "adopted" the hard shell taco from a Mexican restaurant (literally) across the street from his burger stand in San Bernardino as investigated in Gustavo Arellano's "Taco USA: How Mexican Food Conquered America."
Bell would go on to pair the assembly line model of the McDonald brothers, also located in San Bernardino, with the convenience of the hard shell taco to create a corporate supreme that serves over two billion customers each year and helped introduce Mexican-inspired cuisine to the entire country.
One of his acolytes, a manager at Bell's Hamburgers in Barstow, would go on to found Del Taco in 1964 and early Jack in the Box executive John Gorman admitted to taking the fast-food taco back to San Diego after meeting Bell in the mid-50s. Last year, Jack in the Box purchased Del Taco for the epic sum of $585 million.
A veteran of the fast food industry, Sandoval spent 20 years as a district manager for Del Taco before jumping ship to El Pollo Loco for another decade-long stint. The entrepreneurial spirit that guided his successful career up to that point burned brightly, however, and he soon found himself dissatisfied with being just another cog in a corporate machine. 
Despite diverging on the authenticity of their product, Sandoval does seem to share some of Bell's business instincts.
"It's important to please customers," Bell said in "Taco Titan" (1999), an authorized biography. "But that doesn't mean you should try to sell all things to all people… You'll beat the competition when it comes to quality and expertise. Customers will come to you because they want the best."
Likewise, Sandoval places quality above quantity when it comes to menu offerings.
"It's a simple menu, simple concept, and we do that well," Sandoval said. "The potatoes we prepare every day, as well as the bacon, potatoes, and the nopales."  
At the dawn of a four-year anniversary, Sandoval has managed to cultivate a loyal customer base. The niche he has carved out in the greater Downey Mexican food wars has proved a lucrative one and has provided his business smooth sailing even during the depths of the pandemic—aided in no small part by a handy drive-thru. 
"The community's been very supportive, they've been great, the city has been great," said Sandoval. "We get people from Downey, Pico, Montebello, and even Riverside."
The success has even prompted thoughts of expansion for the independent restaurateur, a far cry from even five years ago when the thoughts of signing the lease seemed out of the question.
"There are ideas to expand," Sandoval said, "I was looking at somewhere in Pasadena or Downtown LA."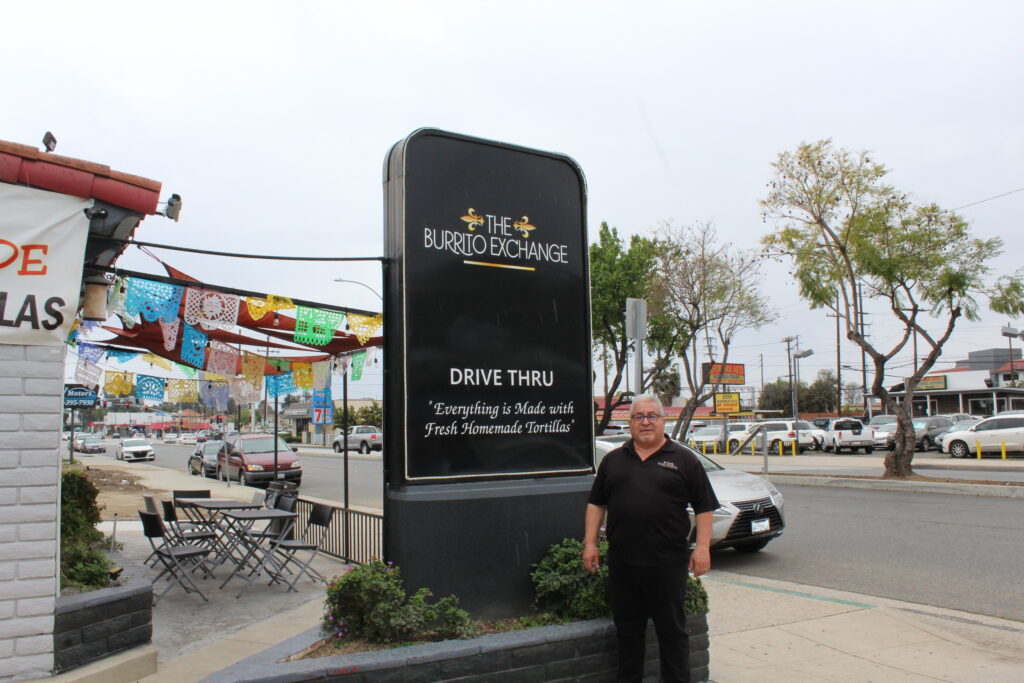 Will Burrito exchange one day rival the likes of Taco Bell, or even its offshoot Del Taco? Only time will tell. Until then, you can cruise up to 8500 Rosemead Boulevard in Pico Rivera to exchange your money for a delicious burrito. You'll probably come back, if you want the best.