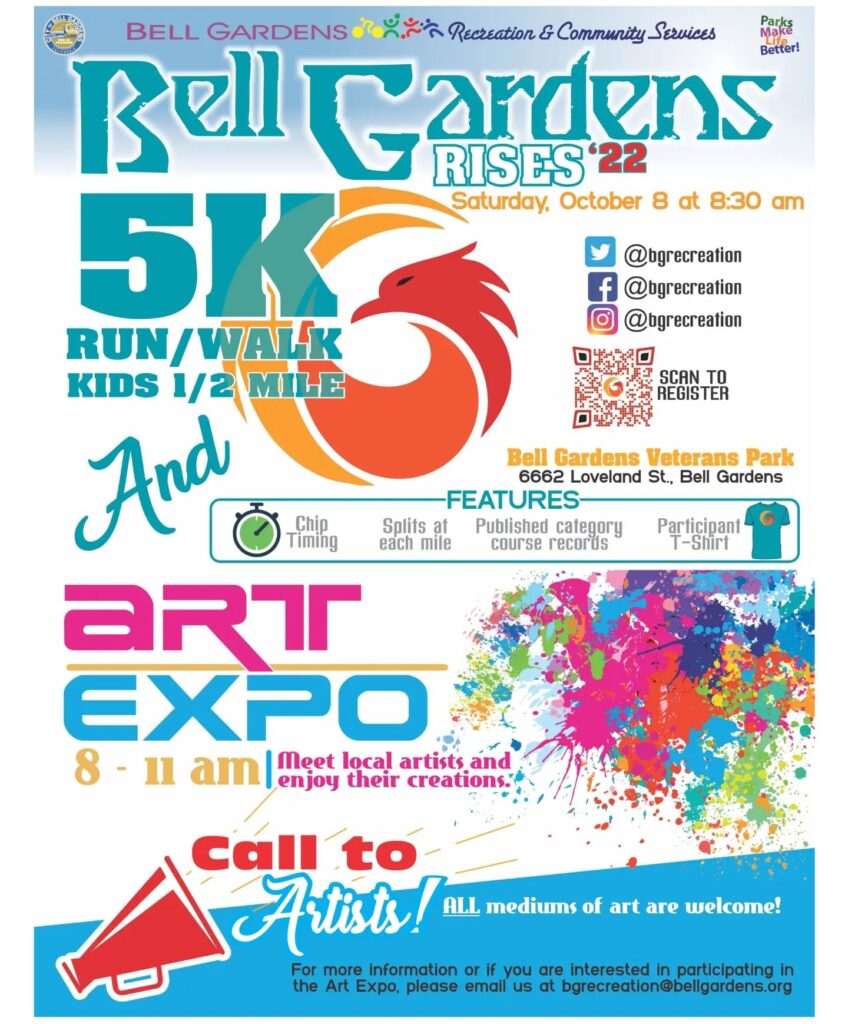 By: Joe Brizzolara
Why combine an art expo with a 5K run? Bell Gardens Councilmember Marco Barcena says it's all about bringing residents together.
"The 5K that we had [in 2019] had a good turnout, I thought it would be a good opportunity for artists to have a crowd of people engaged with their art… it allows people to experience things that they wouldn't regularly experience," said Barcena.
This Saturday, the city will host Bell Gardens Rises 5K and Art Expo at Veterans Park. The event begins at 8 a.m., but the city advises 5K participants to arrive 90 to 30 minutes early. The 5K begins at 8:30 a.m. and a kids half-mile fun run begins at 9:30 a.m.
This is Bell Gardens's second 5K after a first run in 2019. The event was paused due to the pandemic.
Barcena says that roughly 20 local artists have signed on for the event including Bell Gardens native Javier Solórzano, the artist behind Super Lucha Cats. Super Lucha Cats is a comic book that follows the adventures of four superhero cats, clad in lucha libre masks, as they wrestle control of Southeast LA from villains and evil creatures like el chupacabra.
Cisko3000, a Bell Gardens hip hop artist who has collaborated with Solórzano, will also be at the event. 
Barcena himself is also a featured artist, creating experimental electronic music with the use of personally crafted synthesizers.
Artists will be selling prints, stickers, and other merchandise. Barcena says the city waived all permitting fees in order to support local artists. Artist tents will be located in front of the Veterans Park Memorial on the corner of Loveland Street and Perry Road.
"Taking into account that they're Bell Gardens residents, we want to give them that opportunity," he said.
If you don't get a chance to register before the event, there will be a registration booth for runners behind the Veteran Monument on the Loveland Street side of the park. Registration fees for the 5K are $35 and $20 for those 18 years old and younger. The kids fun run registration fee is $20. 
Streets near Veterans Park and the Suva Elementary School parking lot will be closed at 7:45am.
5K participants can park at Suva Elementary (before 7:45 a.m.) or in the surrounding neighborhood. 
For more information, go to www.runbellgardens.com.