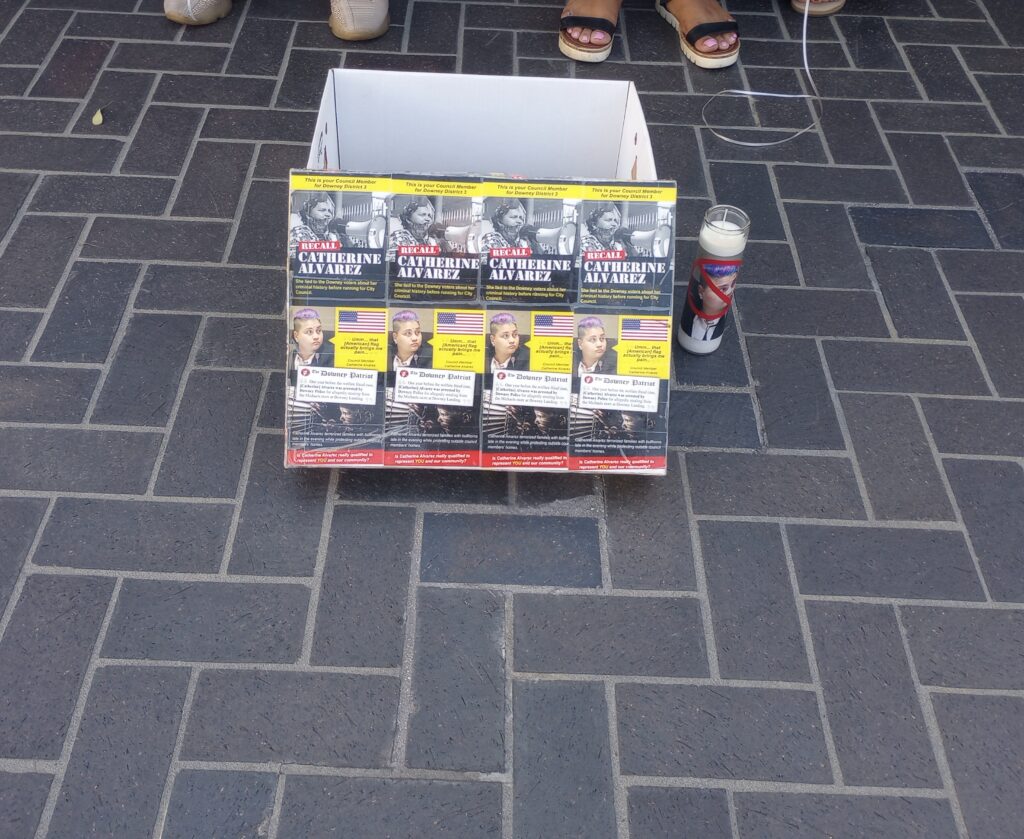 By: Joe Brizzolara
A count of petition signatures submitted in support of recalling Downey City Mayor Pro Tem Catherine Alvarez totaled 4,703, City Clerk Alicia Duarte reported Thursday.
The Los Angeles County Registrar-Recorder/County Clerk is now verifying the signatures and will have until Oct. 14 to complete the process.
Recall supporters argue that voters were intentionally misled by Alvarez about her "criminal past" when she was elected to represent District Three in 2020 and that she "took away their ability to make an informed decision." Recall opponents argue this an attempt to overturn a fair election and highlight economic interests in unseating the mayor pro tem.
Recallers need 3,471 signatures—representing 20% of registered voters in Alvarez's district—validated before residents of District Three can decide whether to remove Alvarez from office in a special election before her first term ends in 2024. If a special election is called, more than 50% of voters would need to vote in favor of the recall in order to remove her.
This is organizers' second attempt at recalling the embattled mayor pro tem after failing to secure enough valid signatures earlier this year. This time though, they're going in with roughly 35% more signatures than needed. The first time around, that buffer was only 18%.
Recall organizer Lissette Rivera says that residents deserve better and that the recall is not personal.
"(This recall) is about someone who deceived our community and continues to (do so)," Rivera said in a video posted to her Facebook on Thursday. "For almost two years we made this happen and this time we will not fail."
Alvarez declined to comment for this article but has in the past said that this is an attempt by Downey's political elite to undo the will of the voters.
"The political machine that I defeated is unwilling to respect the voters' wishes," Alvarez said in a statement after the first recall attempt. "These dirty tactics are going to cost Downey taxpayers several thousands of dollars."
Alvarez has been a lightning rod for the city's establishment and conservative elements since 2019 when, as president of the Downey Tenants Union, she protested outside of elected officials' homes calling for an eviction moratorium. The flashpoints have continued since joining the dais including her support for a city-sponsored LGBTQ Pride event, saying that the American flag "brings me pain" while discussing genocide of indigenous peoples, and supporting economic protections for low-income residents like increased minimum wage for grocery workers during the pandemic and a rent stabilization ordinance which would restrict the amount a landlord can increase rent annually.
But prominent recall supporter and former Mayor Mario Guerra, in tow with recallers as they celebrated reaching their signature goal in front of City Hall on Thursday, says the recall is about her deception of voters.
"When someone deceives the voters, and isn't honest with them about their criminal past, I think voters (have) a right to know," said Guerra. "This is an opportunity for the voters to make a decision after knowing all the facts."
Alvarez received two misdemeanor convictions related to welfare fraud in 2014 and a misdemeanor petty theft conviction in 2013. Felony charges against Alvarez in relation to the welfare fraud case were reduced to a misdemeanor following a guilty plea.
In May 2021, after revelations about her criminal record became widely known in March of that year, City Attorney Yvette Abich Garcia announced that Alvarez had been cleared by an outside law firm hired by the city to determine whether Alvarez's convictions disqualified her from holding office. That law firm found that Alvarez was not in violation of California Election Code Section 20 which bars those convicted of certain felonies from holding elected office.
"A lot of (support for the recall) is because of her ethics, we don't want that kind of person representing Downey," said Guerra.
Alvarez has responded to her past convictions, saying they are the realities of being a working class mother and that she has paid her debt to society.
"I represent working class families. I think all working-class families go through something. It could be a ticket; it could be stealing something from the store just because they couldn't afford it. I don't think they should criminalize my poverty" said Alvarez in a phone interview after signatures were submitted for the first recall attempt. "I paid all the money (back), I paid my dues."
Alvarez claims that she stole school supplies worth $20 from the Michaels crafts store at Downey Landing for her two sons. She was arrested, booked, and was sentenced to one day in jail (time served), summary probation, community service, fines totaling $904, and is permanently banned from the store.
Alvarez's welfare fraud convictions resulted in three years' probation, community service, a fine, and $3,270 paid in restitution to Calworks and for food stamps.
In September 2014, a judge issued a bench warrant after Alvarez missed a court appearance in relation to the petty theft case resulting from failure to complete community service and pay her fine. She was back in court the next month and her probation was reinstated.
While Guerra denies that Alvarez's support for rent stabilization is a factor in this recall attempt, an analysis by Downey Latino News published in March found that over half of financial contributions to the first recall effort were attached to those with ties to the real estate industry which strongly opposes caps on rent increases. A review of the current recall effort's financial disclosure forms shows multiple repeat contributors, including the California Real Estate Political Action Committee which donated $4,000 on June 2.
Recall organizer Jesus Torres, while acknowledging that Alvarez's criminal record is the "bread and butter" of their support amongst residents, does cite Alvarez's support for rent stabilization as grounds for her removal.
"Don't go into politics if you're going to be incompetent," said Torres. "She's trying to push rent control… That's already state law."
California law currently prevents landlords from raising rent above 10% in one year. Alvarez has called for caps lower than the state law, like is the case in the City of Bell Gardens which recently passed a hard cap of 4% on annual rent increases.
Housing advocate Alex Contreras, who supported an eviction moratorium along with Alvarez in 2019 and is a recall opponent, says the economic drivers behind this recall effort are obvious.
"Someone's threatening to cut into their profits, of course they're going to have an issue with that," said Contreras. "The landlord industry, the real estate industry in Downey, is definitely not too pleased with her efforts to (pass) rent stabilization."
Contreras also doesn't believe that Alvarez's criminal record should disqualify her from holding office.
"She's trying to do something with the platform that she has now," said Contreras. "Why are we gonna hold something she did years ago, something that she admitted was a mistake done out of desperation, why would (we) hold it against her?"
If the signature threshold is met, the City Clerk must certify the results to the City Council at its next regular meeting. The council then has two weeks to issue an order for a special election after which a recall vote must be held within 88 to 125 days. At the latest, the election would be held in early March of next year. If successful, a second election would take place to replace Alvarez.
Correction: an earlier version of this article referred to Mayor Pro Tem Catherine Alvarez as councilmember.