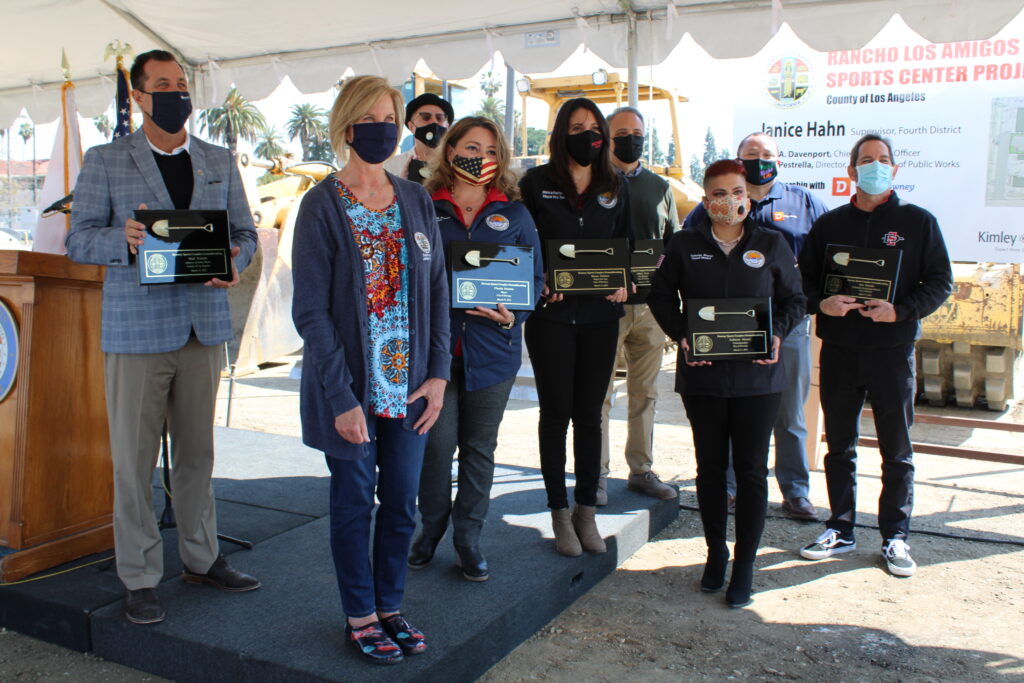 LA County and Downey officials marked the start of construction on the brand new over $12 million three fields Downey Sports Complex with a ceremonial groundbreaking Saturday morning
Carlos J. Casillas G.
LA County Supervisor Janice Hahn, Downey Mayor Claudia Frometa and Downey officials broke ground on the construction of the Downey Sports Complex at Rancho Los Amigos South Campus on Saturday morning, March 13.
The sports facility is located on an unused five-acre portion of land between the Rose Float Barn and the St. Pius X – St. Matthias Academy, on the South Gate border.
The site will include three multipurpose sports fields, lighting for nighttime play, restroom, a concession stand, an equipment storage room, office space for staff, and a surface parking lot.
The parking lot will include 19 electric vehicle charging stations. When completed, the County will lease this facility for one dollar a year to the City of Downey which will operate it, according to a press release from Supervisor Janice Hahn's office.
"I think a lot of us over this past year realized how much we took for granted when we weren't allowed to do those things anymore and for many people – especially kids—that was sports," said Supervisor Janice Hahn.
"Sports aren't just about exercise. They build comradery, confidence, and leadership skills. Sports are an important part of childhood and this sports complex is going to be an asset to Downey residents."
The project is budgeted at $12.12 million. $10 million is from Supervisor Janice Hahn's fourth District -which includes Downey-, discretionary funding while the additional $2.12 million will come from the City of Downey and will cover the synthetic turf, office space, and a multi-sport scoreboard.
"This is an exciting day for our entire community, as we break ground on this brand new sports complex that will provide much needed recreational opportunities for our local youth," said Downey Mayor Claudia M. Frometa.
"This project would not be possible without the support of Supervisor Janice Hahn, who has been committed to this project and has worked with our City to articulate a vision and a design that reflects the needs of our community. This complex and sports fields will be a legacy to our younger generations that health matters to us. Our youth matter! Looking forward to its completion and the many years of use and recreation."
The project is estimated to be completed this November 2021, "under budget and estimated time", said LA County Director of Public Works, Mark Pestrella.
The complex is part of a larger plan to redevelop 70 acres of the Rancho Los Amigos South Campus, which was abandoned 30 years ago after Rancho Los Amigos National Rehabilitation Center consolidated its hospital campus.
Supervisor Hahn attended the groundbreaking with Downey Mayor Claudia Frometa; Councilmembers Blanca Pacheco, Catherine Álvarez and Sean Ashton; LA County Director of Public Works Mark Pestrella and Fesia A. Davenport, Chief Executive Officer.
Interviewed by this media, mayor Claudia Frometa stated: "This is a very exciting day for Downey. This project is being planned since 2016 when this sports complex was approved, and today thanks to the support of supervisor Hahn, this project it's consolidating"
Talking about the rest of the abandoned campus, Frometa mentioned; "There are several projects in plans, one of them is affordable housing buildings, but later we will give details"
Finally, the mayor confirmed that the sports complex, which will be managed by the City, will give priority to the local sports leagues of soccer, lacrosse and football.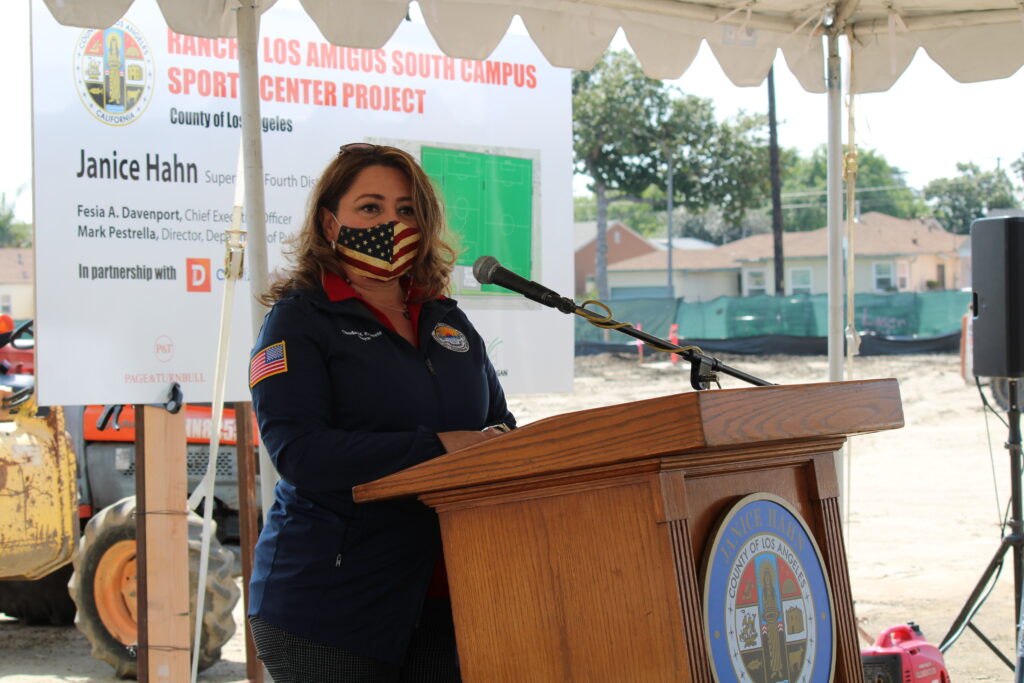 Rancho Los Amigos care village
Regarding the concerns of some neighbors about the Restorative Care Village buildings: "I want to mention that in 2018 there were several meetings with the neighbors around that area." clarified the mayor. "It's important to remind the community that the project was socialized through Neighborhood Watch Program."
Frometa told us that the City in coordination with the County, are organizing an upcoming virtual meeting, so Supervisor Hahn can talk again with the community in the coming weeks.