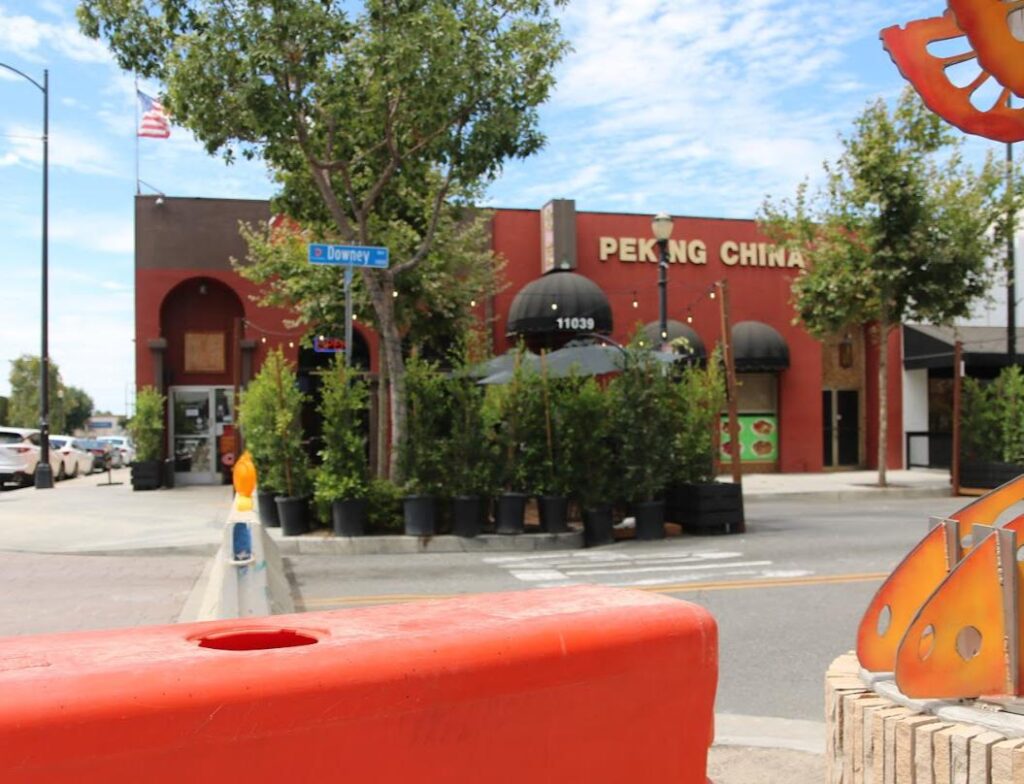 A couple of weeks ago, Downey Avenue started its closure for 6 months, 24 hours every day, in order to assist the block's restaurants in hosting outdoor dining for their customers.
By: Clarissa Arceo
Since last July 25th, Downey Avenue has blocked the cars traffic between the second and third streets to allow for outdoor dining.
It is said to be able to close off for about six months, or 180 days, due to a permit given by the City in partnership with the District Downey to help restaurants to host outdoor dining for customers, but only one restaurant takes advantage of it during the day and at night there are two.
Because of this street closure, Downey's weekly Farmers Market- which play a big role in surrounding businesses' foot traffic- was forced to change locations just around the corner to 2nd St and La Reina Ave.
While this street closure is said to 'assist' the restaurants in providing service, the City failed to take into consideration the surrounding small businesses and their services.
In that closed block there are one bar and six restaurants, but only one terrace (or patio) and another is being prepared. However there are also five businesses that do not belong to the food sector, not forgetting the others who are in the streets around.
One of the longest-standing businesses on Downey Avenue, Second Tyme Around Shop, the local non-profit thrift store, witnesses a decline in sales without as many Downey residents roaming the streets.
Because Second Tyme Around is a non-profit store, they don't burden the struggle of having to pay rent on their building like other businesses do, but because fewer people come to the street, sales have decreased.
Melissa Roche, one of the owners, shares information on their ideas to solve their current street situation; "Any profit that we make goes back into the community, but when we don't make any money, we aren't able to do that. Because the street is closed off, as well as other businesses closing down, people tend to forget that we are still here. So, we are planning on putting some of our items on display or a banner outside in hopes of drawing people in."
Due to the street closure, the non-profit store now operates 3 days a week for 4 hours a day, Thursday- Saturday from 12pm- 4pm. Roche notes that the shop allows people to call in on Tuesdays and make reservations if they wish to roam the shop by themselves.
One of Downey Avenue's newer businesses, The House of Makeup, was started in December 2019 but was forced to close due to COVID-19 regulations and only recently opened back up.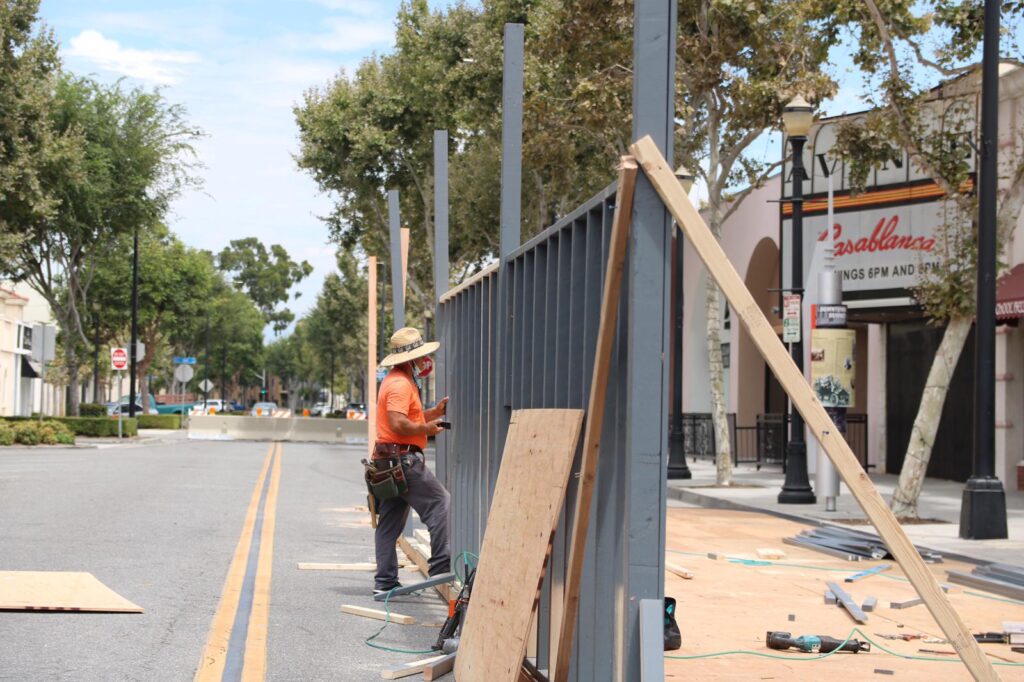 Running the business all on her own, Amerene Hernandez, shares her experience and observations with the effects of the street's closure, "There's definitely not as much foot traffic as there used to be before the street closed, but I know they were hoping it would allow people to feel even the slightest bit safer in going out instead of being home 24/7."
The House of Makeup operates Tuesday- Saturdays from 12 pm- 6pm.
Although Avenue Press does not operate on the block Downey Ave is closed, Gilbert Alarcon, the owner, gives his input on the street's closure, emphasizing the effects it has caused on traffic and parking.
He says, "Downey already has parking issues as it is. But this makes it harder for customers to find businesses over here, too, and because the street is closed- where people would usually park- I basically run a drive-by; I have to run out here carrying big boxes while they wait in the car because they can't park in the middle of the street."
Avenue Press is a family-run business running for over 30 years. Alarcon sympathizes with his fellow small businesses owners, pointing out that the businesses on that block pay rent on their buildings only to not be seen by potential clients driving by now.
Avenue Press is open on weekdays, Monday from 10 am – 6 pm and Tuesday through Friday from 9 am- 6pm.
LA Buns seek to close one more street
Right around the corner from Downey Avenue is L.A. Buns, and the manager, Melissa, says that the street closure has rather inspired them and nearby businesses to try and get a permit for their streets rather than affect them in any negative way.
She goes on to say, "The owner of L.A. Buns owns four other surrounding businesses; two hair salons, Ichiban Sushi, and the Epic Lounge. We're trying to get a permit to close our street so we can serve our customers, too- we don't want them to have to walk all the way over to Downey Avenue just to eat their food."
Melissa reports that they've been trying to get the permit for almost two weeks now.
90% of businesses disapprove
Because some businesses in the area have closed down due to the pandemic, in general, the closing of Downey Avenue makes it a little more difficult for other businesses to keep up with sales and stay open.
Downey Latino consulted with area businesses, and found that six out of seven of the (surveyed) surrounding small businesses do not find the closing of Downey Avenue helpful.
Some retailers have heard that the City of Downey reported that if not enough businesses take advantage of the street's closure, then they will revoke the permit.
So far, the only businesses taking advantage of the street's closure are Joseph's Bar and Grill, Bastard's Canteen, and Lock and Key Social Drinkery.
Bastard's Canteen uses a small block of the street during the day, Joseph's Bar and Grill and LKSD uses the street at night.