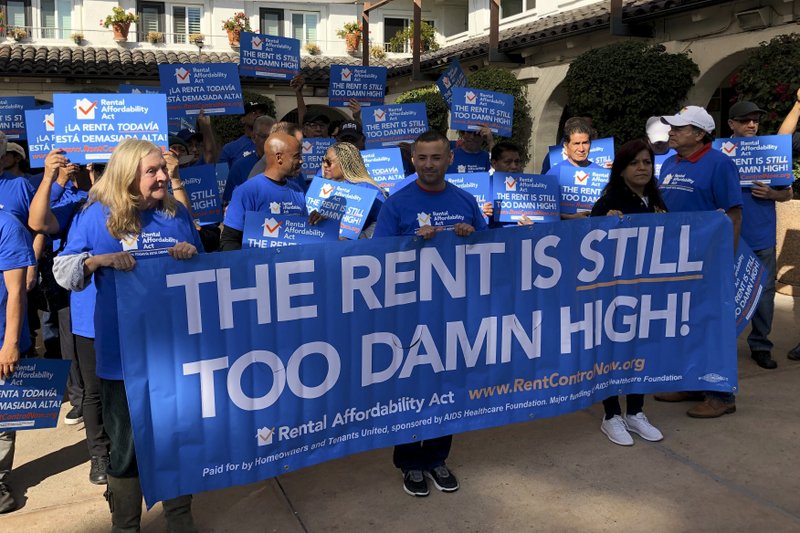 By: Joe Brizzolara
In early February, the Downey City Council discussed whether or not to direct staff to explore a potential rent control ordinance.
The meeting went into the early hours of the morning and included spirited attacks on the item's sponsor, Councilmember Catherine Alvarez, co-founder of the Downey Tenants union.
"Rent control" refers to laws put in place to limit the amount of rent that a property owner can charge a tenant.
Renters (accounting for roughly 49% of Downey residents) won't be seeing a reprieve from the up to 10% annual rent increase currently permissible under California law after council roundly rejected the item.
Alvarez herself, somewhat surprisingly, voted against going any further with the item. She has since committed to bringing it back.
Alvarez first became prominent in Downey politics when she organized to pass an eviction moratorium ahead of the implementation of the Tenant Protection Act (AB 1482).
The state law, which prohibits increasing rent beyond the rate of inflation plus 5% and restricts no-fault evictions, was passed in September 2019.
Neighboring cities like Bell Gardens and Baldwin Park quickly passed eviction moratoriums to prevent landlords from getting ahead of the law and either evicting or jacking up the rent of their tenants before it took effect on January 1, 2020.
In Downey, the moratorium did not garner enough support to pass with Councilmember Sean Ashton being the lone exception on the council.
Alvarez garnered criticism during the moratorium debate from her future council colleagues after staging protests outside of their houses demanding a halt to no-fault evictions.
When running for city council, Alvarez ran on her support for a rent control ordinance in Downey.
Alvarez's victory threw some of the city's political elites a curveball.
The Downey Patriot, affiliated with the Downey Chamber of Commerce and edited by Alvarez's former District 3 opponent Eric Pearce, wrote of Alvarez in a news article discussing potential candidates for Mayor Pro Tem: "It's hard to imagine a scenario where they entrust Alvarez with any serious level of responsibility."
On social media and in the op-ed sections of the local press, the debate on rent control in Downey has continued weeks after the rent control vote on February 9. Here's some facts surrounding the debate:
Is Downey affordable?
Not according to the federal government.
The Department of Housing and Urban Development defines "cost-burdened" families as those that pay more than 30% of their income towards rent. Those who pay over 50% are "severely cost-burdened."
According to the Southern California Association of Governments and the California Department of Housing and Community Development, nearly 52% of downey tenants spent 30% or more of their income on rent. Around 22% spent 50% or more of their income on rent.
City staff, using figures developed by property data firm CoStar, reported the average rent for a two-bedroom apartment in Downey is $2,025.
Ashton said he was surprised at how high the rent is in Downey. Of the 24 neighboring cities listed in the staff's presentation, only Cerritos and Santa Fe Springs had a higher average rent than Downey.
"I find that kind of amazing," said Ashton about the figure. "My mortgage payment is less than that."
Rodolfo Cortes, co-founder of the Downey Tenants Union, says his organization receives frequent communications from tenants barely able to make rent.
"Maybe 10 or 15 years ago Downey was affordable for most people. However, Downey is no longer affordable for the working class," says Cortes.
Did Downey Voters already vote against rent control?
Councilmembers who opposed the rent control item repeatedly argued that Downey residents had already voted against rent control when in 2020 they voted against Proposition 21 and again in 2018 when they voted against Proposition 10.
"The voters of Downey already voiced their opinion," said Mayor Pro Tem Blanca Pacheco.
If passed, Proposition 10 would have repealed the Costa-Hawkins Rental Housing Act which restricts local governments from instituting rent control that affects certain types of rental units such as single family houses and units built after 1995.
Cost-Hawkins also prevents vacancy control, which prevents cities from capping the rent of a unit after a tenant has moved out. Proposition 21 (a scaled-back version), would have allowed local governments to rent control units that are over 15 years old excluding landlords who own two properties or less.
It also would have allowed rent on new units to be restricted. Both propositions allow stricter rent controls to be passed by cities, but do not create rent control ordinances in and of themselves.
The votes do show a general resistance to expanding rent control by Downey residents, however. According to city staff, 55.5% of the city voted against Proposition 21 while 58% voted against Proposition 10.
Alvarez pointed out that Props 21 and 10 failed due to the exorbitant amount of money invested against it by the real estate lobby. Opponents to Proposition 21 spent around $85 million to stop it from passing.
A review of the 10 costliest proposition campaigns in state history by the LA Times showed that the outcome for all 10 correlated with which side spent the most, though many were close in terms of both spending and results.
Over three times as many emails submitted for public comment on the item opposed rent control as supported it.
Would a rent control ordinance in Downey be "redundant"?
Councilmember Mario Trujillo claimed that a rent control ordinance in Downey would be "redundant" due to the fact that the state already passed AB 1482.
The bill's author, Assemblymember David Chiu (D-San Francisco), described AB 1482 as a prohibition on "rent gouging," not a statewide rent control law.
City staff found that the maximum allowable increase permitted under AB 1482 for the average 2-bedroom would be roughly $115 a month.
As Councilmember Alvarez pointed out, a rent control ordinance in Downey could further restrict what a landlord could legally increase.
As an example, the city could decide to make allowable rent increases 2% plus inflation. A 7% annual increase as opposed to a 10% increase on a $2,000/month apartment equals $720 in savings over the course of a year, hardly redundant for a cash strapped family.
The range of allowable rent increases and types of units that can be rent controlled varies depending on the city and county in which it is passed.
In 2019, Baldwin Park capped rent increases between 1-3% on tenants residing in buildings of three or more units. In Gardena, rent increases exceeding 5% are subject to mediation by the city.
In Los Angeles, no increases are permissible on rent controlled units due to COVID-19. In 2019, Los Angeles capped rent increases at 4% (increases can range between 3-8% depending on inflation).
Councilmember Alvarez at no point explained that a rent control ordinance can be tailored by city staff within the confines of state law and continually spoke of "rent control" in general terms. City staff also did not emphasize the latitude the council would have in crafting an ordinance.
"What AB 1482 did was limit 'extreme' rent increases that were already rare," says Rodolfo Cortes, co-founder of the Downey Tenants Union.
"That limit is too high," he said. "What we need is true rent control like they have in Santa Monica, Berkeley, etc."
Fred Sutton, senior vice president of public affairs for the California Apartment Association, agrees that increases above 10% are rare but argues that the 10% allowable increase is critical to ensuring property owners receive a return on their investment.
"(AB 1482 is) a delicate balance to stop any price gouging attempts while also protecting the ability of owners to upgrade their properties and incentivize the creation of housing," Sutton said.
One aspect of AB 1482 that tenants groups take exception with is its lack of an enforcement mechanism—tenants who have received illegally high rent increases are forced to take their landlord to civil court.
Councilmember Alvarez supports a rental board where tenants can alert the city of illegal rent increases.
"(A rental) board can enforce (tenants') rights without (tenants) going to court or looking for a lawyer. It would reduce court expenses," Alvarez said.
"If anyone breaks the law, there will be a lot of organizations that will take those cases," said Sutton. "There are severe penalties and damages if a landlord breaks (this law) and it's easy to prove if your rent went above the allowable amount."
"It's completely unacceptable to have this free-for-all system where the tenants are adrift and they're supposed to be on the lookout for resources and then they're blamed for not seeking out those resources which are oftentimes not sufficient," Cortes said.
Does rent control deter development?
Not under current state law.
"Rent Control will definitely deter developers," said Councilmember Mario Trujillo.
Lawmakers crafted the Costa-Hawkins act with the intended purpose of preventing local rent control ordinances from detering development. With Costa-Hawkins still on the books, a rent control ordinance in Downey would not directly affect new projects.
AB 1482 updates this restriction by placing rent caps on all units built 15 or more years ago but newly built units would still not be able to be rent controlled. AB 1482 is set to expire in 2030.
Sutton acknowledged that state law prevents local rent control ordinances from affecting new development but did say that if Costa-Hawkins was overturned, as many tenants advocate hope to accomplish, cities would be able to deter new development with stringent rent control ordinances.